DMTV Milkshake: Bimma Williams on Making Space for BIPOC Creatives
DMTV Milkshake: Bimma Williams on Making Space for BIPOC Creatives
1/6 Photos
2/6 Photos
3/6 Photos
4/6 Photos
5/6 Photos
6/6 Photos
Claima Stories is a podcast with a mission: to inspire and empower Black and Brown creatives as they pursue their ambitions. It's the brainchild of Claima co-founder and host Bimma Williams, who's now midway through a 30-day, four-city tour of the West Coast, as he interviews local BIPOC creatives on how they've turned their ideas into reality. Past guests include Andy Nguyen of Afters Ice Cream, streetwear entrepreneur James Whitner, sound engineer Derek Ali, and creative director Paris Cole.
Here, Bimma – a former Nike marketing exec – reveals his best advice for young BIPOC creatives interviewing for their dream jobs: "Be a confident communicator," he says. "You're going to be working with a lot of different, dynamic personalities; you're going to be working with people of different ages and different backgrounds. The thing that's super-critical in those environments is that you can actually get your vision across quickly – and get your vision across to multiple people. People are going to want to see that in your interview: How do you communicate? How do you handle communicating in difficult environments?"
Also in this Milkshake, Bimma shares his favorite guest of all of Claima's podcasts: fashion and jewelry designer Melody Ehsani, who dropped out of law school to bootstrap her label. "Melody didn't have a lot of formal training," Bimma says. "She faced a lot of hurdles coming up, including losing her father at an early age, but she didn't give up. When she wasn't able to get access to certain types of capital, [like] VC or angel investors, she actually found the money herself – she would sell product and then take that money and reinvest it back into her business instead of spending it on herself. She was very much a bootstrapper, which has allowed her to grow her brand to where it is today. And her story is just extremely inspiring."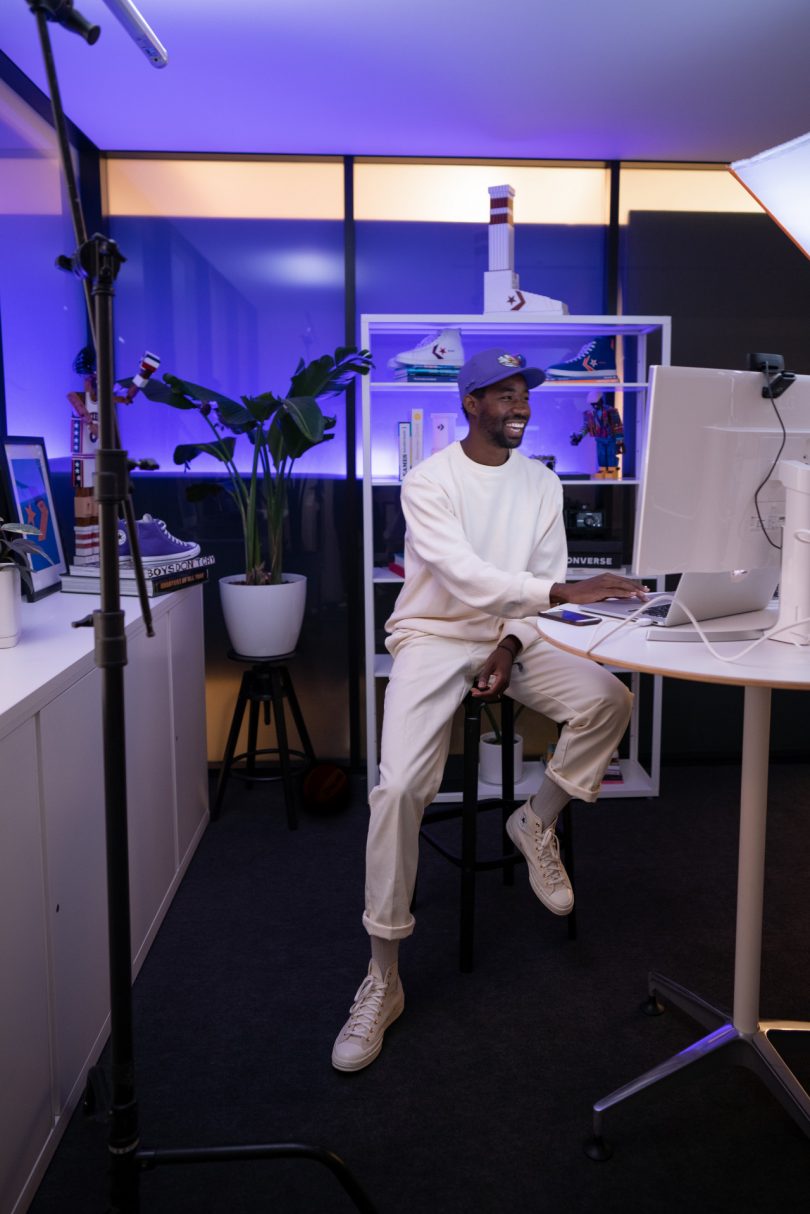 So is Bimma's – so tune in.
Diana Ostrom, who has written for Wallpaper, Interior Design, ID, The Wall Street Journal, and other outlets, is also the author of Faraway Places, a newsletter about travel.
Milkshake, DMTV (Design Milk TV)'s first regular series, shakes up the traditional interview format by asking designers, creatives, educators and industry professionals to select interview questions at random from their favorite bowl or vessel. During their candid discussions, you'll not only gain a peek into their personal homeware collections, but also valuable insights into their work, life and passions.