You may recall that in my last House Milk post, I mentioned we pretty much have a freeze on all major house projects and huge purchases due to our backyard situation. However, there were some projects that I felt were important enough (read: bugged me enough) that I wanted to address them. We are lucky to have a lot of storage space in our new home, but with great storage space comes great responsibility organization. From our pantry to our garage to closets and general storage, we've got a lot of places to put our stuff. Neatly.
We tackled the garage over the summer—you can see pics on Instagram here and here. That was a Mr. Design Milk project. Now it's my turn: I decided I wanted to de-clutter my bathroom. Even though we have a lot of other spaces that really need some organization TLC, most of those spaces are tucked away—no one sees them; out of sight, out of mind. But I have to look at my bathroom mess multiple times a day, so the mess in in my face at all hours of the day. And I love my bathroom—it deserves to be all it can be.
(see all of the before and after pictures in the photo gallery here)
There were four main areas of the bathroom that needed to be addressed: the cabinets, drawers, shower, and counter. When we moved in, we just retro-fitted what we had for the counter, and then threw everything else willy-nilly into drawers and cabinets in order to get it unpacked. It's been like that for 9 months now…
Since we pretty much spent all our money on the house itself and the backyard project, we needed to come up with some affordable storage solutions—in other words, no fancy custom velvet-lined drawers for me! I headed to Target to see if I could find some pieces that would be creative and designy enough to fit into our modern aesthetic without feeling super "storage-y." We want our bathroom to feel luxurious and spa-like, and I wanted the storage to feel like it matched the quality of the Carrara marble and black Brizo fixtures we chose for the bathroom.
Cabinets + Drawers
In-cabinet storage is typically not all that exciting. You've got your plastic bins, your fabric-covered file-style boxes, your baskets… all of these options just seemed super boring to me. When I saw the branch-like pattern on these plastic bins at Target, I really took to them and thought that they'd be transparent enough where you can see through them to peek at what's inside, but would also be a much more interesting and modern upgrade from typical plastic bins or basketweave patterns. I bought some small- and medium-sized bins and went to work on both the cabinets and drawers.
My cabinets and drawers were nothing special to behold before:
But I sure do like them now!
p.s. I'm not going to go out and buy lots of expensive, photogenic beauty products to style the shoot and remove things like toilet paper. While I love fancy soaps just as much as the next gal, they're not practical (or affordable) for everyday use! Lucky you: you get to see things like my ugly 90s red hair dryer. This is real life!
This one time, Mr. Design Milk went to Costco and bought a giant box of Sensodyne, then I went and bought that same big box of Sensodyne, not knowing he had already bought one. Oh we laughed, and laughed showing our giant, white, sensitive teeth. If the Cheshire Cat ever comes to stay with us, we've got him covered.
In our old closet, we had the most gorgeous velvet-lined jewelry drawer that dreams are made of. In our new bathroom, we actually have a lovely shallow drawer that could be used for jewelry, but it had become a giant catch-all for my crazy chunky pieces. Here's what it looked like before (yikes):
Now, here it is:
I chose for another non-traditional storage option: a bamboo expanding utensil rack with some additional bamboo storage boxes. It expanded perfectly to fit my drawer and the long sections are the right size for necklaces. The smaller boxes are ideal for hoops, rings and studs. I contemplated painting it white, but there's something about the warm wood that makes it feel a little more luxurious. There was a little movement from back to front when opening and closing the drawer, so I fixed it all in place with some Velcro and double-stick tape.
Shower
We opted for the "shower niche" upgrade in the bathroom, which is great but holds about two bottles. So, everything in our shower winds up on the shower seat. We thought about different ways to organize this, but I discovered a great solution in an unexpected place: the kitchen decor aisle. Believe it or not, it's actually a metal Room Essentials 3-bottle wine rack!
Since the shower seat doesn't get super wet every time, we figured that with a few clear coats of Rust-Oleum, we should be good to go. However, I remember coating the chrome air gap cover in my kitchen with matte black spray paint and it turned out so well, so I decided to also paint the rack matte black to match our Brizo fixtures. I put about 12 thin coats of matte black spray paint and maybe six coats of matte varnish on top. For further protection, I am also thinking about using the Never Wet Rust-Oleum system – does anyone have any experience with that? Does it work? I'd love to know.
Here's what it looked like before:
Counter Top
The counter was kind of a catch-all for stuff that didn't have a home in our drawers… things like sunscreen, lotions, makeup brushes. We didn't use all of these on a daily basis, so we decided just to focus on having a clutter-free counter with some essentials and a few pretty things.
While trying to figure out if I wanted to replace my plain white oval tray with yet another tray, I fell upon this raw edge cutting board! I love the idea of bringing something with an organic feel into the space. While we have marble, it's got hard edges, along with everything else in the room. The cold gray and the dark espresso cabinets are nicely balanced now with the warmth of the board. It's just the right size, too, for some whatnots.
Bathroom counter after:
I picked up the hand at an online shop that sells commercial displays and the containers are by Umbra from many years ago. The peach tray is from A+R and the silicone vessel is from Finell.
The copper mugs and bowl were both discovered in the kitchen accessories section of Target. The mugs aren't available online but here are some similar ones.
The candles are from Target and the red and geometric tray is from A+R (I might have gone crazy and bought a boatload of these trays in different colors and sizes!). On the wall are a set of three POV Candleholders.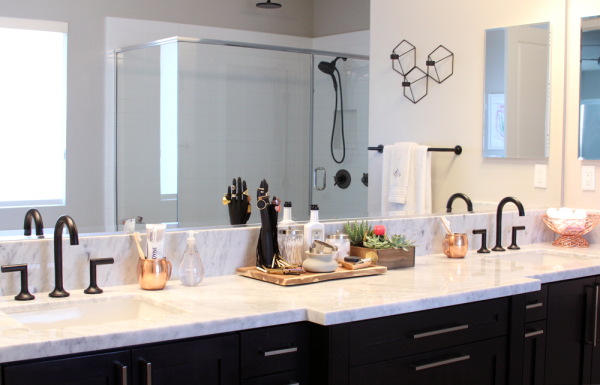 I've had a few requests to share some tips on buying and personalizing new construction, and our bathroom is a prime example, so I can't wait to share more about this space in an upcoming post.
What are some of your favorite modern products for bathroom organization and storage?
This post was created in collaboration with Target.