I like to think I'm a pretty organized person. I love spreadsheets. I alphabetize things. I clean up while the party is still going on. But, our house came with some seriously unorganized closets. Don't get me wrong, these closets tried very hard to be organized; they had shelving and all, but it was poorly placed and installed and just didn't really function for us.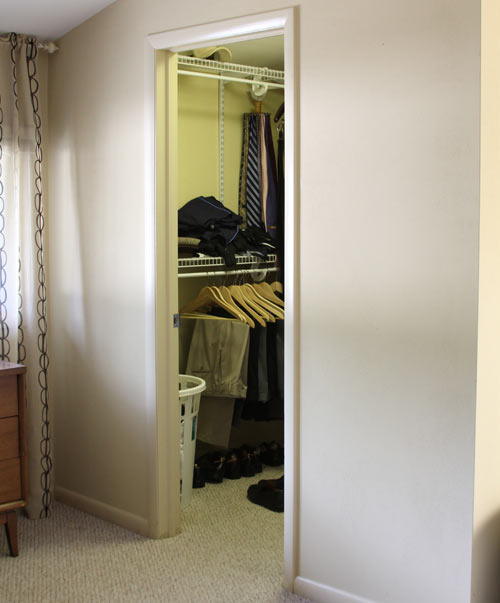 So you can imagine how thrilled I was when Closet Factory wanted to work with us on a new closet solution. Yay!
(hang in there – this is gonna be a long one!)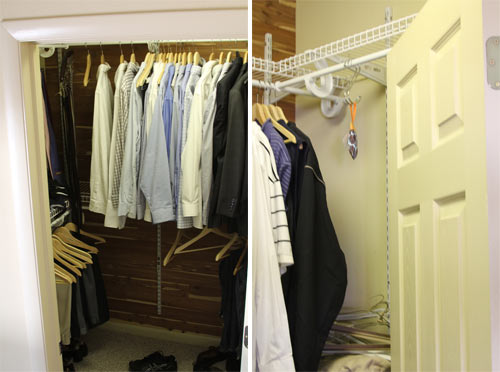 The worst part of our main master closet design (besides the shelving) was the fact that the door opened IN, rendering an entire wall of the closet completely useless.
Therefore, before Closet Factory could install the closet, we needed to put in a pocket door. This isn't our first time doing this, so we felt pretty comfortable with this project, except when we realized we needed to move the light switch from one side of the door to the other. Thanks to my husband's handy Googling and YouTube video watching, he as able to do it without getting electrocuted, but we always recommend consulting a professional. I can remember many times when we've had to call up our electrician to consult with him or even ask him to come out and take over the job when we felt uncomfortable doing it ourselves. Then, we re-drywalled the wall and painted the door and trim. Our drywall job leaves a lot to be desired since it was our first time doing that on our own, but it's inside the closet, so no one really sees it anyway.
Closet Factory hooked us up with the local Closet Factory franchise team – a family owned and operated business out of Allentown, PA (CF Allentown). I dealt with a Dad, a Mom, and two daughters. I have to admit that it was a comfort working with such a small and dedicated team.
The CF Allentown team came by for a consultation, during which we discussed our closet needs, how we used it on a daily basis and our needs versus our "want to haves" (aka the icing on the closet cake). Since this closet is primarily used by Jordan, he wanted enough storage for his folded clothing in addition to his suits and work clothes. He also nerdily wanted to separate it all into thematic quadrants. Wow, now I know why I married this man (insert geeky hashtag here).

Closet Factory wood and melamine samples
In addition, we decided to add some fun bells and whistles including a felted jewelry drawer, slide-out belt and tie rack, slanted shoe shelves, and fancy handles. The color we chose was a honey-colored melamine using a simple flat drawer design from their Timeless Modern collection. The real wood was tempting, but unnecessary since we're talking about the inside of a closet that only we see. It turns out that the melamine really looks like wood! The color was perfect, too — not too light but not too dark for such as small space (the entire closet measures about 5'x7′).
After the consultation, they sent back some renderings.

Our Closet Factory rendering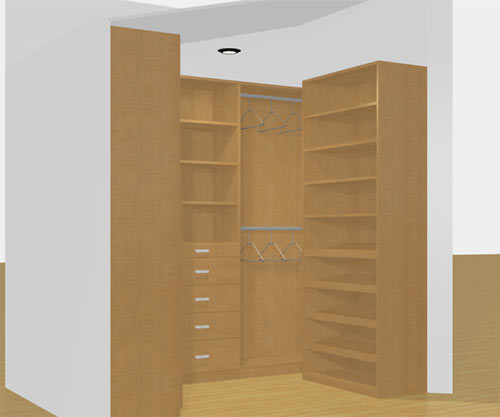 Side view
We approved the design and scheduled the installation.
After installation, we spent some time using the closet to see how it was going to work for us. We decided that the hamper area, a stock Closet Factory double-fold-down hamper, didn't really work for us. Therefore, we called up the CF team and asked what our options were. They offered us a few different stock solutions and even came out again to test them out with us in person. However, after realizing those weren't a good fit for us either, I was pretty sure that I was on their last nerve, but they happily told me that they'd create a custom solution just for us. We felt pretty fancy.
And thus was born the hamper drawer:
And the final closet!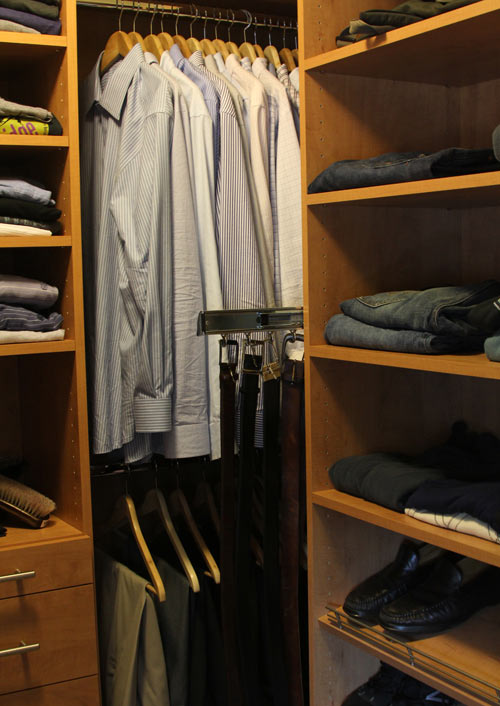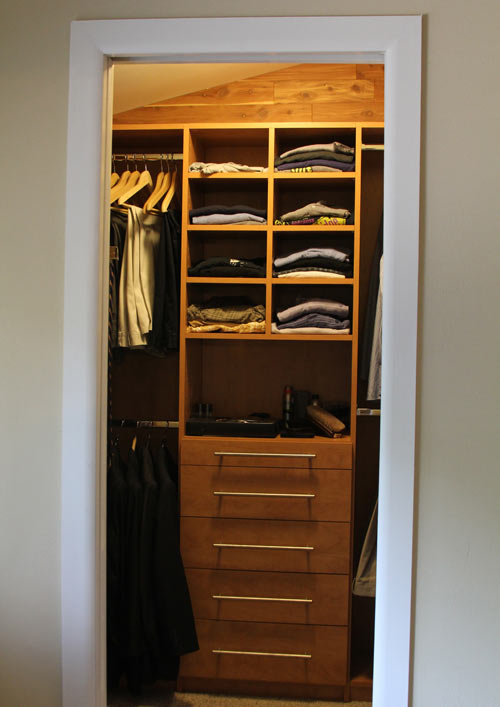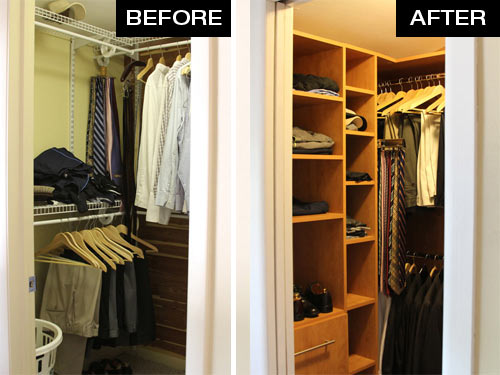 Quite an improvement, right?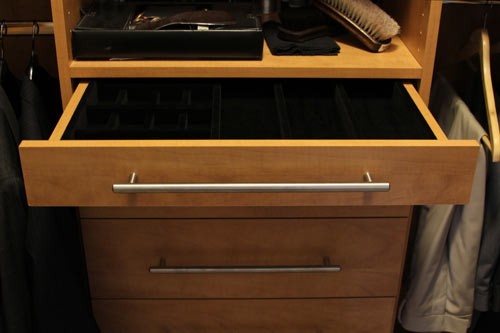 Felted jewelry drawer – there are little dividers and ring holders but they are hard to see.

Jordan loved his master closet so much that I decided to get mine done, too. You know, just to be fair. ;)
If you ever get the opportunity, I highly recommend slanted shoe shelves. I splurged a little and got four slanted ones and four regular ones.
And, we couldn't leave Amelia out, so we did hers too: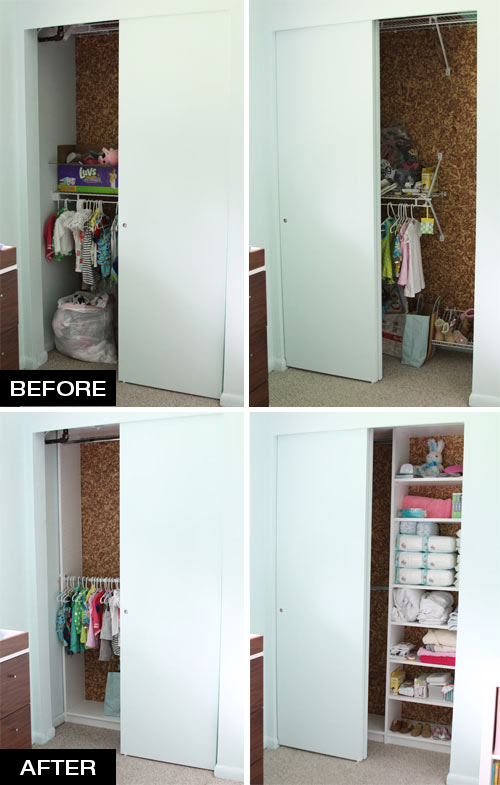 Thank you so much to Bob and his awesome Allentown Closet Factory team for everything!
(p.s. We're working on those lamp posts, too – we decided to do a simple concrete DIY planter box. Stay tuned…)
Closet Factory provided us with the walk-in master closet at no charge. We separately purchased two more closets on our own after being very satisfied with the results.