Lera Katasonova was hired to renovate this flat in a pre-revolutionary building in Kiev, which came with high ceilings and rounded windows that look out into the heart of the city. Looking to modernize the interior, the client's main request was to create a cohesive main living area through the use of natural materials, like wood, stone, ore, and glass.
The first floor was designed to house the entrance hall, study, bathroom, guest quarters, kitchen, and a main sitting area, while the second floor is where the bedrooms are located. The interior had to be gutted to replace the joists, partition walls, and all of the utility systems.
In the kitchen, sitting room, and wardrobes, they used prefabricated pieces from Tim 7, who are known for their high quality wooden furniture pieces.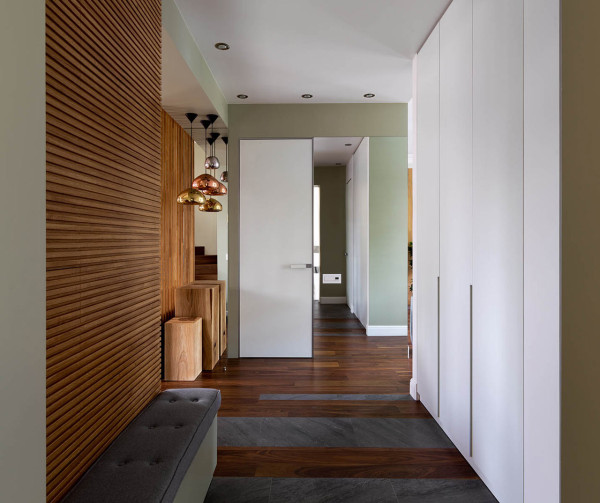 The stairs were a challenge because of the ceiling so they chose to do a gradual spiral out of wood and glass.
A wooden sink is used on the first floor bathroom.
Sliding doors divide the children's bedroom from the playroom letting the spaces work separately if needed.