Any design team named FridayProject sounds like a fun bunch. FridayProject is the Italian duo of Luca Boscardin and Valentina Raffaelli who are living and working out of Amsterdam. They have some tasty new products launched at SaloneSatellite.
What looks to be a simple bookshelf is actually food storage that gives food the proper amount of space. Instead of throwing everything into your refrigerator, this product allows you to store food with an educational purpose – it's organized based on the food guide pyramid. Therefore, it gives more space to what we should eat more, and less to other products.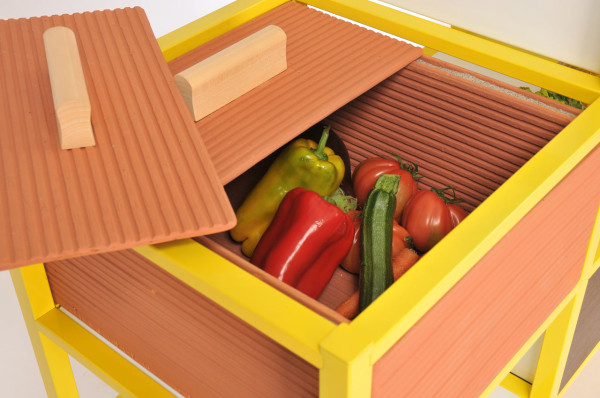 The structure is made on painted steel with a mosaic of materials that correspond to different functions: wooden drawers for bread, pasta and cereals, dark spaces for potatoes and onions, a terracotta box for fresh vegetables, shelves with spaces for eggs, aromatic herbs, spices, etc.
The open structure and the palette of materials, are a way to show and communicate what we have at home, suggesting combination and inspiring recipes. All the products are displayed with a specific sequence and logic, in order to understand immediately how much space we should give to cereals and vegetables instead of cookies and sweets.

It's a way to bring in the house an educational system for our diet. It's an instrument to show the food we have at home, and to push people to combine it in an healthy way.
This piece is part of a series of objects, named "graphic furnitures" that they launched during Milan Design Week.
The series also features a lamp named Flamingo. It's a simple construction and, as the designers explain, "There's nothing hidden in the construction, it brings to life the spontaneous and colorful intention of a child drawing."
People is a a set of stools, tables and planters with a simple shape but they have specially-designed feet that look like they're about to run away. So cute!
Photos by Alessio Campagnaro.