Last month I mentioned a great exhibition taking place during DesignPhiladelphia called Four Corners: Design from Philly Surrounds. I had the chance to check it out this past weekend and I would highly recommend if you're local to Philadelphia that you stop in to Minima Gallery before the exhibit ends on October 20th. If you can't make it, then here's a peek:
Sideboard by Michael Iannone
A variety of local chairs surround a gorgeous table by Bench Dog Design
Mio's felt chandelier made using old hat molds
Coffee table by Adam Rung with a George Nakashima chair in the background and Philadelphia pillows by Bhaval Shah Bell Cartoloji in the foreground
Great wallpaper from local artists including Aphrochic
Chandelier by Adam Wallacavage
Sk8 chair by Toby Mcqueston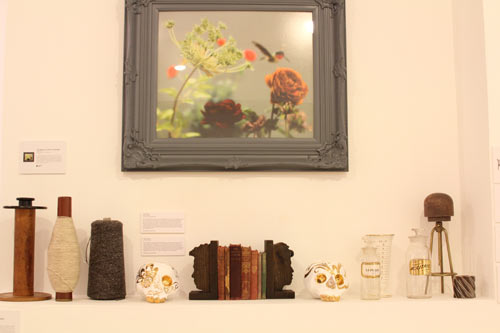 Great photo and frame by John Murphy
Gorgeous gilded skull by Candy Depew
Signals Papercut by Joe Boruchow (he is awesome!!!)
There is so much more to see, though, so hopefully you can pop in and see it. Congratulations to Royce Epstein and Caroline Tiger for putting together such a fantastic exhibition!