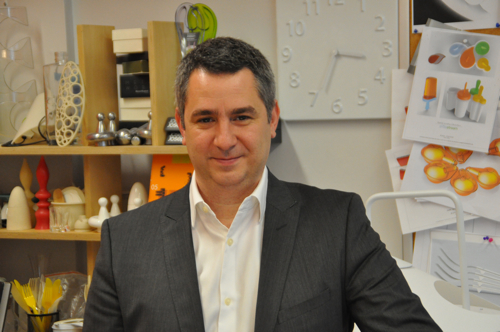 This week's Friday Five subject is Ran Lerner, who studied industrial design in Milan, but has been a New Yorker for over a dozen years now. Lerner is best known for the witty sensibility of the products he designs, including those for Umbra, Acme, Rosenthal, Kikkerland, Nambe, and others. He also believes in promoting eco-friendly manufacturing through the efficient use of material and low energy fabricating technologies. Let's see what makes him tick. (Yes, he designed the clock behind him.)
1. Gaudi's Sagrada Familia
For being one of those things, that can not be captured in a photo.
2. My father's caliper
For being an extremely useful tool, for being a gift from my late father and great architect Dov Lerner, and for this being a good opportunity to keep his name alive online.

Photos: John and Elena
3. Eataly's cappuccino
For being the best coffee in town.
4. Scent Of A Woman Court Scene
For being one of the most inspiring speeches in American cinema.
5. Metro card
For getting me everywhere.