Friday Five With Virginia Shore
Friday Five With Virginia Shore
1/4 Photos
2/4 Photos
3/4 Photos
4/4 Photos
Virginia Shore is a Washington, DC–based curator and advisor with a specialty in contemporary art in all media. Her career has been dedicated to expanding the role of visual arts as a means of cultural diplomacy. Virginia has curated more than 200 international collections and exhibitions for public and private collections, and overseen several off site-specific commissions. Throughout the years, she has established relationships with hundreds of artists, architects, curators, foundations, dealers, collectors and institutions around the world. Her current projects and partnerships include the Barack Obama Foundation/Obama Presidential Center, the Emerson Collective, the Fredriksen Family Collection in partnership with the New National Museum of Norway, and the HALL Group for the recent opening of HALL Arts Hotel in Dallas, Texas.
Today Virginia is joining us for Friday Five!
1. Elson & Company
Lola, our sweet girl posing on my favorite carpet by DC-based Elson & Company. Diane Elson is a dear friend who worked closely with Oscar de La Renta on this design. He was one of a handful of contributing designers for the CFDA's Fashion Targets Breast Cancer Initiative, the Ovarian Cancer Research Fund and Tibet House New York. Elson and Company also contributed a carpet for the Embassy Beijing project. That carpet was designed by @FabienBaron in a space with commissions by Maya Lin, Laura Owens and Anne Chu.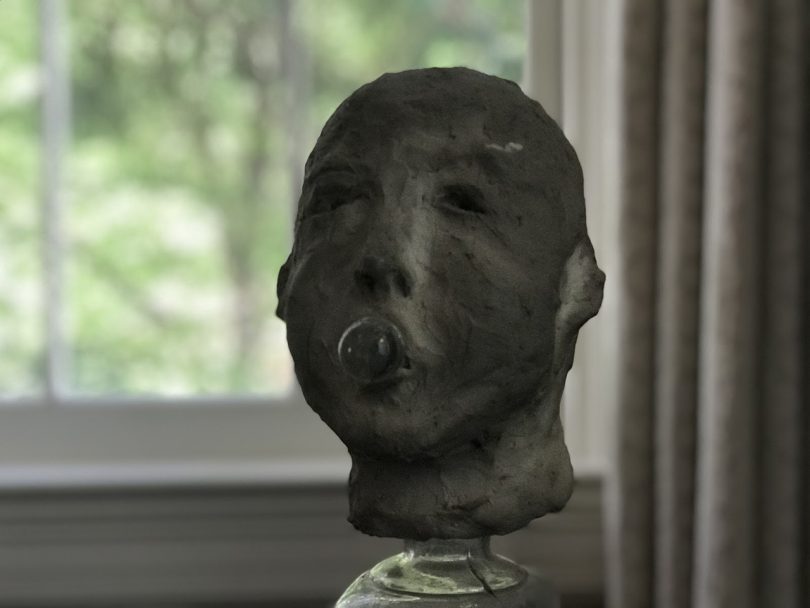 2 Avish Khebrehzadeh, "Untitled" (Blowing Bubbles), 2018
Avish's work is timeless. She is an incredible multifaceted artist working in animation, drawing, painting, sculpture and installation. Her work is influenced by her experiences as an immigrant. She was born in Tehran and has lived in Madagascar, UK, Italy, and lucky for me, she now lives in Washington, DC. I first met Avish at a restaurant, she was the hostess.  We struck up a conversation which resulted in me visiting her studio a few weeks later. We have been friends ever since. In her words, "I like to be frugal in giving the visual information to viewers. I want each viewer to participate and finish the story with his or her own imagination."
3. Assateague National Park
During Covid, my family and I have taken several day trips to Assateague National Park. It's a 37-mile long barrier island along the Atlantic Coast of Maryland and Virginia, best known for the beach, wild horses, dunes, birding, forest and marsh habitats. Horse and wild pony spotting is the goal, but a few hours on the beach seems to restore the soul and fulfill the occasional need to escape the redundancy of it all.
4. Arts Books + Catalogues
These are true friends of curators and many more. They're a resource for exploration, documentation, memories, concepts and inspiration, such as Carrie Mae Weems', Social Studies, 2010. "Despite the variety of my explorations, throughout it all it has been my contention that my responsibility as an artist is to work, to sing for my supper, to make art, beautiful and powerful, that adds and reveals; to beautify the mess of a messy world, to heal the sick and feed the helpless; to shout bravely from the roof-tops and storm barricaded doors and voice the specifics of our historic moment."
5. My Favorite Tree
It's located in a beautiful park about ½ mile away in Dumbarton Oaks Park. A beautiful park in the middle of the city located within Rock Creek Parkway, an oasis run by the National Park Service. The park was actually designed by Beatrix Farrand, America's first successful female landscape architect and is considered to be one of the finest garden designs in American landscape history.
Work by Virginia Shore:
"Three of the projects I recently curated come to mind, each with a focus on the strength and power of diversity in all forms. Diversity of the artists; race, gender, ethnicity, identity. Diversity of the objects, materials, perspective, and vision. "By The People" by Halycon, the first DC festival to connect five quadrants of the city, with themes of overcoming adversity, healing, life and happiness. Also, the collection for Halls Arts Hotel and the permanent collection for the US Embassy in Pakistan. For each project I worked with over 50 artists on site-specific commissions and concepts."