San Francisco-based Klopf Architecture covers the gamut as far as modern residential design, and besides new builds, they've been doing additions and remodels of mid-century modern homes. They've even been tackling some Eichler homes, like this L-shaped Eichler in Palo Alto, California that was in need of more square footage.
The challenge was to expand the home and to extend the long dark entryway, while blending in with the original design. They opted for a front extension that includes a bedroom, bathroom, and atrium.
The addition's exterior is clad in vertical wood slats that continue on the interior down the hallway.
Once you enter the front door, you're greeted with a light-filled atrium that brings a bit of greenery and nature into the interior.
The atrium and new bedroom are separated by a large glass panel that lets the light pass through.
The bedroom is flooded with light, too, thanks to the sky lights above the atrium and the windows surrounding the front door.
The new bathroom at the very front of the extension receives light through the translucent windows at the top that follow the roofline, typical of Eichler designs.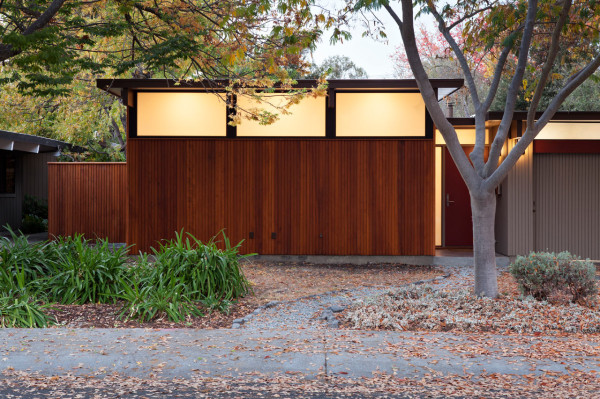 Photo by Mariko Reed.