Functional Meets Fun in the Space Invaders Collection
Functional Meets Fun in the Space Invaders Collection
1/19 Photos
2/19 Photos
3/19 Photos
4/19 Photos
5/19 Photos
6/19 Photos
7/19 Photos
8/19 Photos
9/19 Photos
10/19 Photos
11/19 Photos
12/19 Photos
13/19 Photos
14/19 Photos
15/19 Photos
16/19 Photos
17/19 Photos
18/19 Photos
19/19 Photos
Fun in every sense of the word, contemporary furniture brand Stellar Works has collaborated with multidisciplinary designer Luca Nichetto on the Space Invaders collection. The eclectic collection of bold, functional objects highlights Murano beads, solid wood, and minimalist metal frames and is ready to invade a variety of environments. The collection includes the Dhala table and floor lamp, the Hoba integrated table and lamp, as well as two trays.
With lots of playfulness and character of design, the lighting is the real standout of Space Invaders. The Dhala table and floor lamps bring together functionality with quality materials and craftsmanship. Supported by a minimal metal frame, each features colorful Murano glass beads in a variety of different finishes. The result is a unique modular design comprising stacked elements with hidden LED strips that emit a warm glow from within. With optional legs and both cable and rechargeable versions available, the Dhala table is a playful design for a multitude of environments.
The Hoba is a small table with integrated lamp that juxtaposes materials and shapes for the unexpected. A minimalist circular base supported by discreet legs connects to a symmetrical tabletop via side column to create a void "invaded" by a Murano glass shade. Hidden LED strips add functionality, making the small table/lamp combo a timeless and surprising object.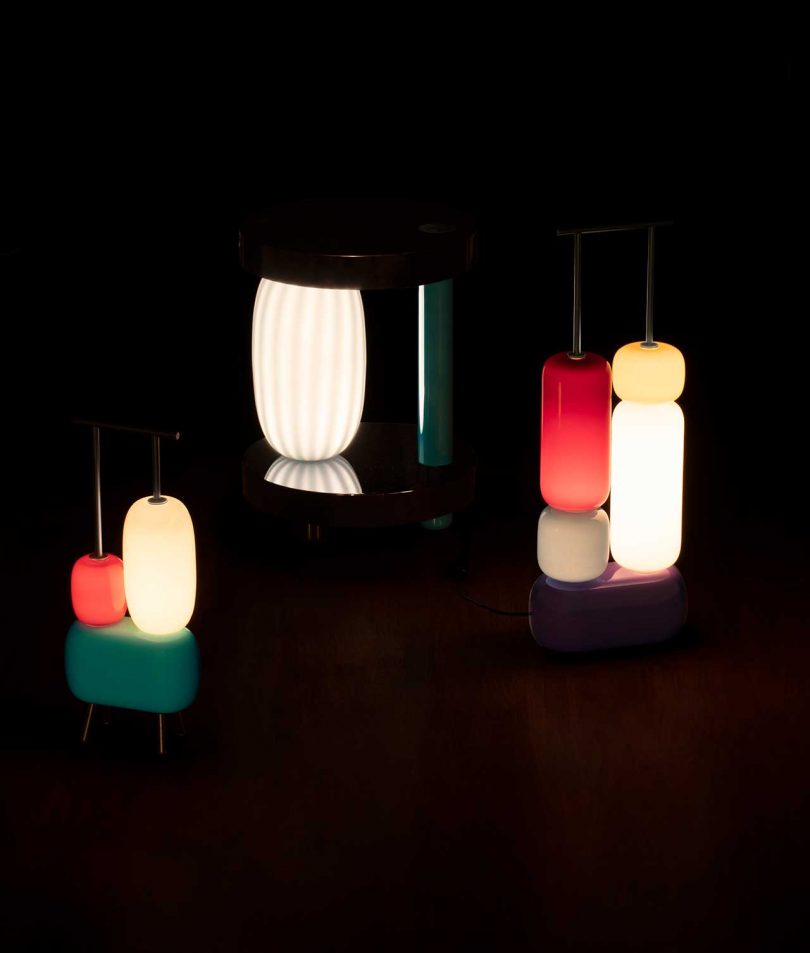 To learn more about the Space Invaders lighting collection, visit stellarworks.com.