Genette Dibsdall Makes Luxury Garments From Discarded Festival Tents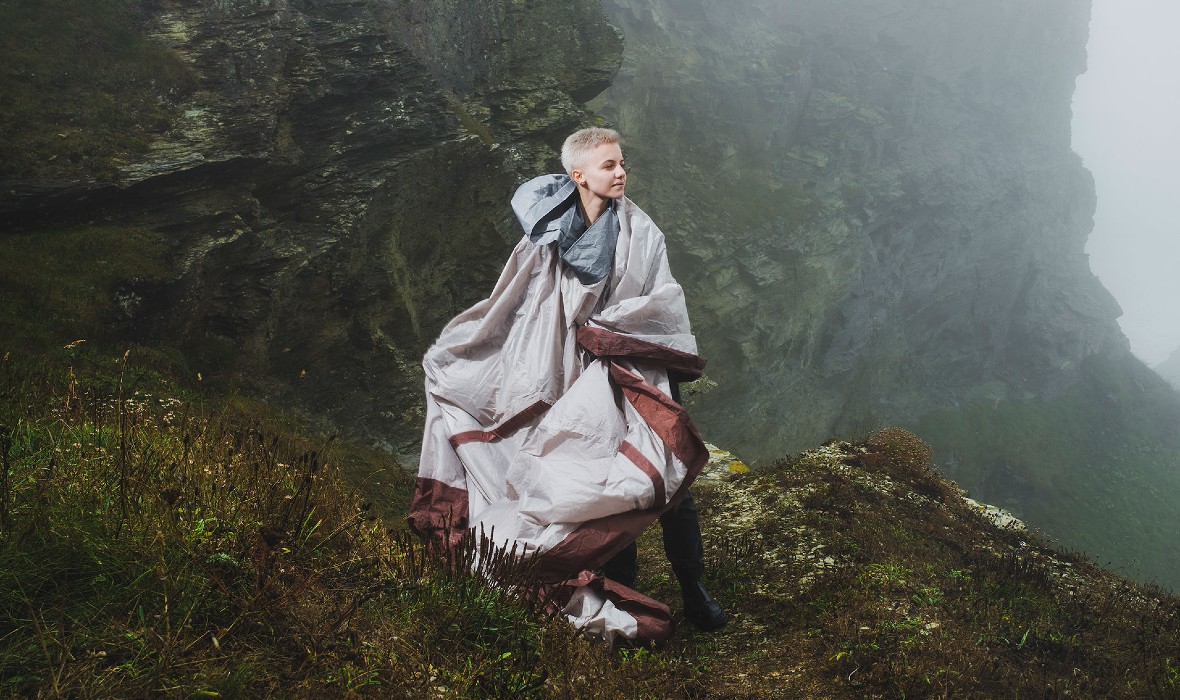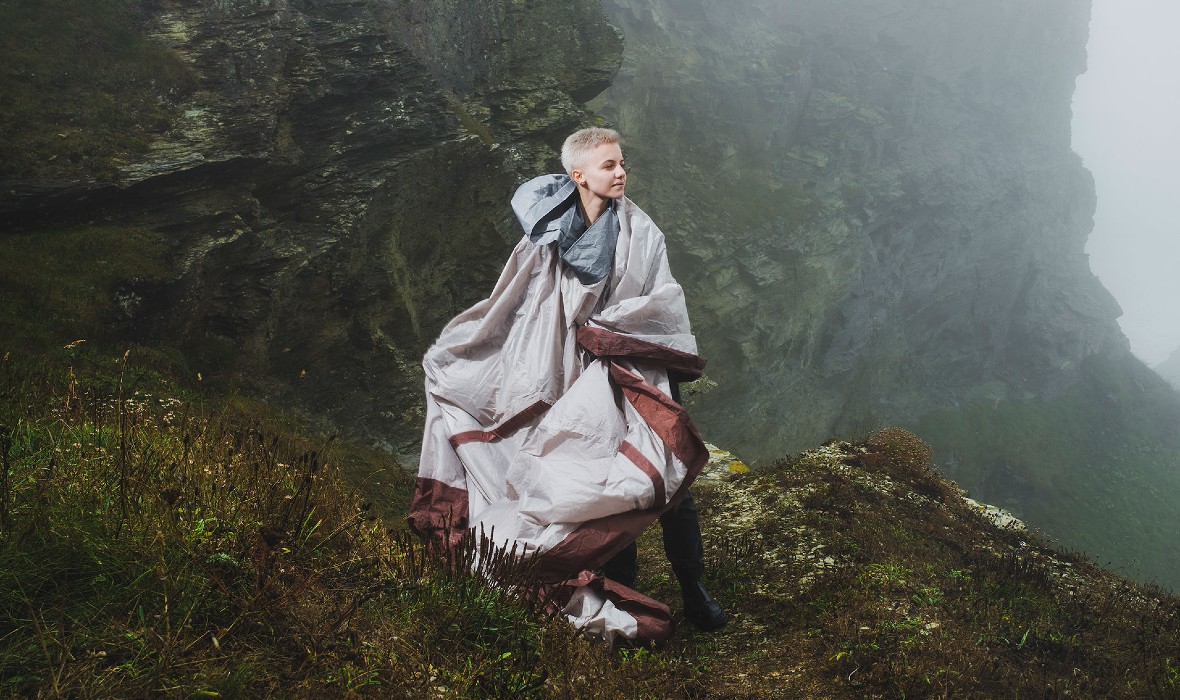 Genette Dibsdall Makes Luxury Garments From Discarded Festival Tents
1/14 Photos
2/14 Photos
3/14 Photos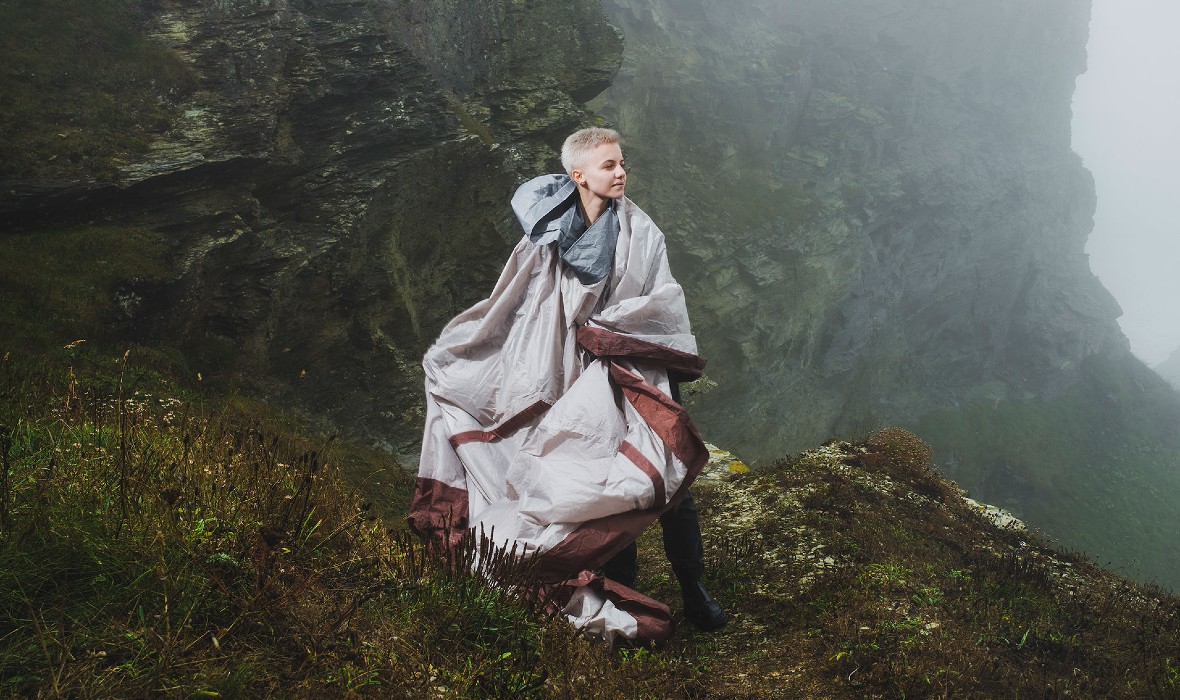 4/14 Photos
5/14 Photos
6/14 Photos
7/14 Photos
8/14 Photos
9/14 Photos
10/14 Photos
11/14 Photos
12/14 Photos
13/14 Photos
14/14 Photos
Horrified by the abandoned tents left after UK music festival Boardmasters in 2018, Genette Dibsdall conceived The Maverick – a transformable luxury garment that can be variously used as a cape, a nap sack, and a tree tent – made from the waste tents and named after the campsite in which she found them.
Tell me a little bit about your childhood, education, and background in terms of how you first became interested in creativity, design, and sustainability.
My maternal DNA link to the Reebok founder Joe Foster has played a leading influence in my choice to study craft and design throughout my career. I focused on fashion and textiles design through school, college, and university. In 2008 I was awarded a first class honors degree from Liverpool John Moores University. On graduating, my first apparel and accessories design role was with a global fashion brand where I quickly found that my dreamy university experience didn't set me up for industry employment! The process for mass fashion design and production was linear, restrictive, and repetitive with a focus on bestsellers, minimum order quantities, and product costs. I missed being creative and learning – and I also became aware of harmful dyes, material sourcing methods, discarded waste, and the mass burning of samples. The role didn't align with my values and this was the start of my sustainability journey.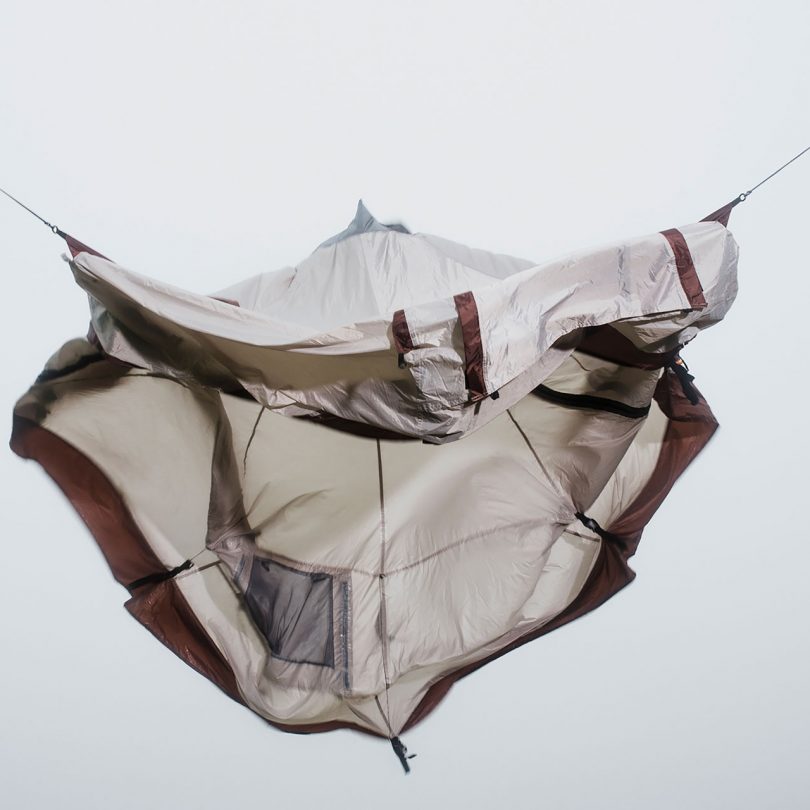 How would you describe your project/product?
The Anthropocene project is a critique of our current epoch; which marks the dominant influence of humans on our planet with the purpose of provoking change by producing a luxury garment from waste. The Maverick is a transformable luxury garment, remade using local discarded tents. The name comes from the original waste site, namely the Maverick Field campsite at Boardmasters Festival in Cornwall. The Maverick is a multi-use garment that can be transformed into a cape, a nap sack, and a tree tent. Its functional and sculptural approach throws out the rulebook on traditional fashion practices; highlighting the value of waste resources and how we can use what we have. This project isn't a revolution, but it has the potential to reach people, provoke change, engage, and stimulate beliefs and values – creating a space for a human connection. It takes fashion from being a material object and turns it into a powerful tool with purpose and attitude, allowing material objects to play a vital role, and giving them responsibility and value.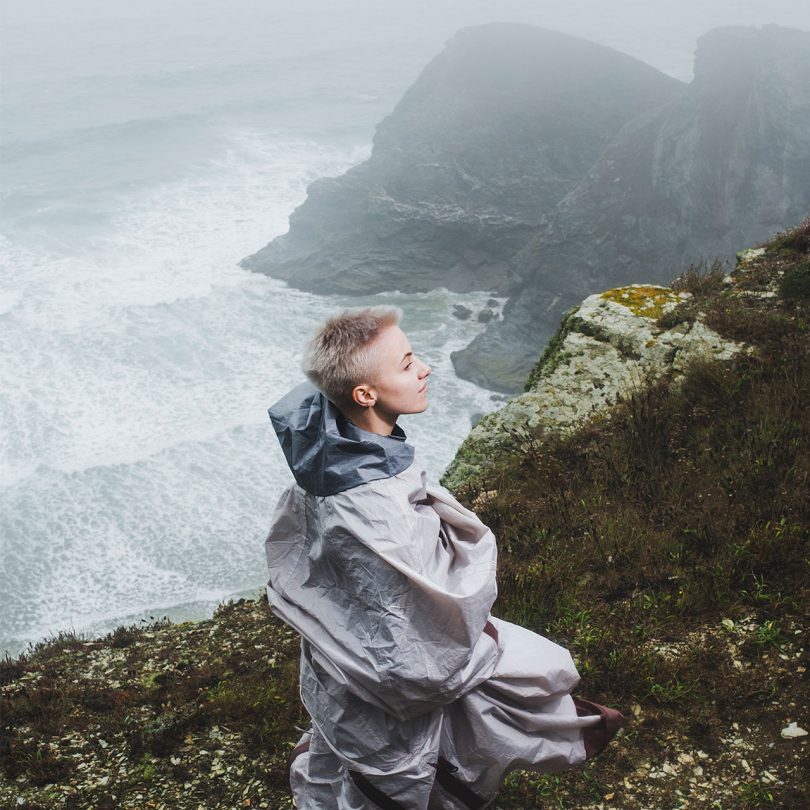 What inspired this project/product?
My research into the Anthropocene weaved with the Cradle to Cradle manufacturing model and the Chang-Pa Tribe's lifestyle of 'leave no trace.' My big idea originated from my primary and secondary focused research of The Anthropocene. "Anthropocene, the 'human epoch,' is a term that has been widely adopted to describe the geological period since humans began to significantly influence the world around them. According to Szymanska and Laughlin, the term implies that humanity now has such a pervasive influence on the Earth that it has become a force of nature.
What waste (and other) materials are you using, how did you select those particular materials, and how do you source them?
Through my creative practice, I've used discarded outerwear garments, adventure tent waste, heirloom smocks, vintage life jackets, and material swatches. I would like to continue the exploration of discarded tents as a raw material and develop new bio-future fabrics. Each project involves a deep dive rigorous research process across empirical research methodologies starting with a question, this is how I select particular materials for each project. I volunteered to clean up the mass waste on the camping grounds for the Boardmasters festival and managed to source a mass collection of waste tent material. I also used waste materials from my father-in-law's garage!
When did you first become interested in using waste as raw material and what motivated this decision?
My research and creative practice for my Master's Degree project first sparked my interest in waste as a raw material. This was motivated by influences from my research into my family tree, psychology, philosophy, ideology, and personal outdoor and adventure passions. I created an artifact talisman, in response to my research question "How might I celebrate my unique creative voice?" namely a handmade recycled roaming blanket, designed to be durable, functional, and upcycled from outerwear filled with natural alpaca fleece, with performance and technical finishes for use when traveling. I sourced 12 pieces of outerwear to craft the roaming blanket, which were all second or third-hand. Each piece carried its own story, adventure, color, texture, and material. I sourced alpaca fleece from a small local family farm where every alpaca had a name, personality, and story. This would normally be a waste for the small family farm, but it was premium insulation for my roaming blanket. My journey of waste material for product design started here.
What processes do the materials have to undergo to become the finished product?
My waste material process involved three key stages: material research and compositions (I keep the material as raw as it can be to avoid extra pollutants but to ensure longevity); quality tests, cleaning, and treating; and deconstruction for sample pattern cutting, before stitching, fitting, and testing.
What happens to your products at the end of their life – can they go back into the circular economy?
I'm extending the life of tent waste as a provocation concept, so these repurposed products could continue their life by avoiding landfill. If I sell my products I will have a trade (send me back for another garment), rent (don't buy me, just rent me), reskin (preloved), reuse (patterns to reuse me in another way), and inherit systems (pass me down) to provide a circular product system and avoid landfill. The compositions of each material affect how they can be treated at the end of their life. Man-made synthetic materials are used to keep tents light for carrying, quick-drying, cheap to produce, and low maintenance and need to have 100% composition of nylon, for example, to create the best fiber for secondary raw materials. However, often tents have mixed compositions making it harder for the synthetic materials to be created as a secondary raw material, but it can be done. Brands and manufacturers do not take responsibility for the end of life of their products, especially in camping tents, I would love to help change policies to place more weight and responsibility on the brands for these catastrophic one-time-use products.
How did you feel the first time you saw the transformation from waste material to product/prototype?
This transformation from waste material into a provocation allowed me to communicate issues to a wider audience. I felt the power of this purposeful tool, allowing material objects to play a vital role in responsibility.
How have people reacted to this project?
This project raised questions among my audience about their values and beliefs, enabling interaction, engagement, and education. It reached people, provoked change, and stimulated a form of awareness that they were disconnected from. Overall, my audience was inspired and influenced by this fashion activism perspective and I would love to continue sharing these ideas with more people.
How do you feel opinions towards waste as a raw material are changing?
Opinions and relationships are shifting, as interest and curiosity increase through disruptive designers, material research, innovation, technology, and science within circular design demonstrating the endless possibilities and value of waste as a raw material. I am excited for the future of sustainable and regenerative material as it develops and unfolds over the next decade.
What do you think the future holds for waste as a raw material?
I feel the future of waste as a raw material holds an abundant, innovative, and influential catalyst for change. The world cannot evolve in its current state and humankind needs to innovate, challenge, and create change as waste is set to reach 148m tons annually by 2030. There is a great need to convert zero-value textiles and waste into high-value textile fibers, thereby realizing the sustainable use of textile resources. Humans don't connect to objects with no value to them, this is evident from my Boardmasters Festival cleanup and research. Value can come from a product's story, transparency, and beliefs. Storytelling is really powerful. It's memorable and it resonates with people more than statistics. It is human nature to put ourselves first, so how can we change this? Using shock tactics can be ineffective, but giving people a sense that their behavior matters and sharing what they can do to help can be very powerful. We need to remake in new ways, to imagine, improve, and evolve our current destructive system for the future of our planet. Raw material has the potential to become more accessible and a more desirable alternative. But I feel waste as a raw material needs science, design, and communications working together to make a big impact of substantial change.