This dreamy snow country house is a modern geometric haven located on a northwest slope with panoramic views of Whistler Valley in southwest British Columbia. Patkau Architects went bold on the wedge-shaped plot of land that barely had enough space for a garage and entrance on the street side of the lot.
Careful consideration was given to the design as there were restrictions as to the allowable building footprint and height. The other major concern was the home's ability to shed snow from the roof into the proper storage areas on site.
Using a hybrid of monolithic and framed systems during construction, the slabs and walls on the lower floor are concrete, while the upper levels are made of a composite steel and heavy wooden structure with wood-frame infill. The exterior was then covered in diagonally placed, open-spaced boards that were laid over conventional roof and wall assemblies.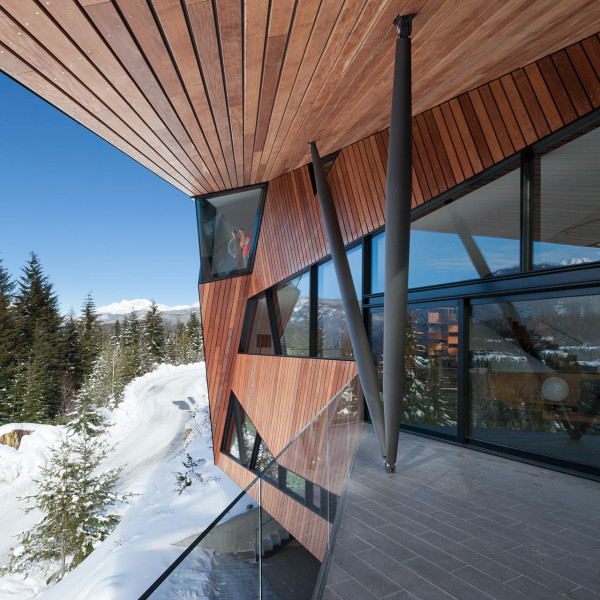 The lower concrete structure dampens temperature swings inside during the summer and winter months. In the summer, the interior is naturally cooled and ventilated by drawing air from the lowest level to vent at the top.
Large windows allow for mountain views while also bringing daylight to the interior.
The faceted surfaces continue on to the interior of the house where nothing appears to have right angles.
Stairs lead from the main level up to a bridge that joins the master bedroom suite and a study.
The main level is one large open space that houses the living, dining, and kitchen areas, along with an outdoor deck that opens up to the valley.
The lowest level contains the guest bedrooms and a second living area, along with a service space designed for life in a snowy area. There are places to dry all the winter gear as well as to store it.
Photos by James Dow / Patkau Architects.