I love this design by Flora, the hot German team that keeps coming up with fresh designs. This collection, called Elevation, was designed by Arik Levy and in each piece is concealed storage.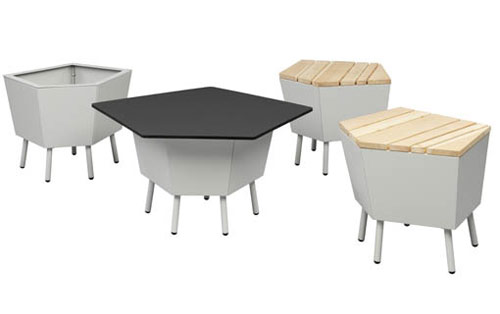 When you see such pieces, both stylish and useful, you have to wonder why it is taking designers so long to come up with storage solutions beyond the boring chest! To be fair, oddly enough they seem to be becoming increasingly interested in the subject just as cushions become totally weather proof and needless — it figures!
I do not want to stop them in their track so I suggest they explore storage ideas we would love, such as storage that works outdoors but for things you use indoors but just have no space for. This means the storage needs to be waterproof yet able to breathe a little. And except for bunker-type chests, not much is happening on that front, so please designers, to your drawing boards!
Or, another suggestion is to explore storage that uses up the space in the lower section of over sized planters. DeCastelli used the space to create a nice little house for the dog!
At the Milan Furniture fair we even saw a prototype with the seat of a regular dining chair working as a tiny storage section for napkins and such.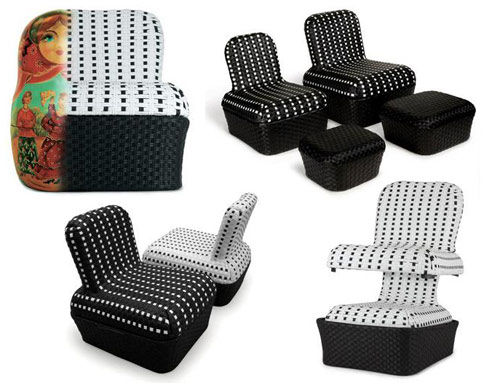 A variation on the issue of concealed storage  is space saving devices. I love this Fang Studio Matryoshka seating. Like the namesake Russian dolls they can all fit in to each other to save precious space. They are by former senior designer at Marcel Wanders studio, Danny Fang. A first solo creation, the Matryoshka nesting furniture is quite cool. Fang's design includes two large, square outdoor chairs and two footrests or stools that perfectly fit one inside another. Manufactured in woven polyethylene fibre and aluminium frames, the pieces combine to a total weight of just 22 kilograms (~48 lbs).