I'll be honest, we've been pretty lazy about covering commercial interiors, trade shows, and brands. In past year, we weren't all that excited about task chairs, desk lamps, cubicles (shivers), etc… and interior design and consumer products always seemed more exciting, more innovative, and more approachable. Most of the innovative offices we've seen in the past were only those of over-funded startups and tech companies.
However, a LOT—A WHOLE LOT—has changed in the commercial space since our last visit to Chicago's NeoCon show. In fact, I don't think I've ever been so excited about the idea of workplace and commercial space design before. Think about all the coworking spaces that are out there now, all of the flexible work environments, multifunctional furnishings, open office privacy pods, technology, standing/moving desks…oh and the textiles and acoustic systems… there's a lot to talk about!
Anyway, we are super stoked to be a media partner this year with NeoCon, which means we'll be there covering the show right from the Merchandise Mart, as well as sharing our favorite discoveries and launches from all the coolest office brands. This year, the show occurs June 13-15th, and features everything from product awards to special events and exhibits, talks, showroom parties, and more.
Metropolis will debut five new talents, who will each display 3 to 5 objects of design, sponsored by Milliken and Wilsonart. It will include Design With Company, DAMM, Assembly, Studio Herron and Steven Haulenbeek.
We're also VERY excited about the special satellite Guerrilla Truck Show @ NeoCon, which will take place on Tuesday, 6/14 on the newly expanded South Drive.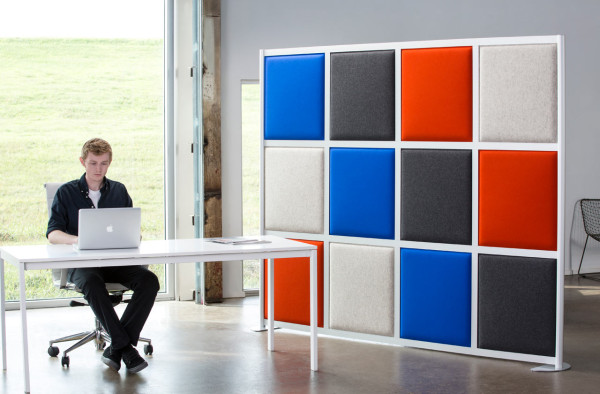 Additionally, the 7th Floor exhibit hall will feature the latest and most innovative products and services in a newly designed space, with nearly 300 brands represented. From the Wave, a new modular, reconfigurable and stand-alone high-performance LED lighting system from Barbican Architectural to our friends at LOFTwall's latest acoustic BLOX divider (pictured above), to a modular sound structure designed by Alberto Meda and Francesco Media for Snowsound USA, and even forward-thinking textiles from Kvadrat and Chilewich Contract (below).
Attendees will get to experience Configura's Virtual Viewer is a CET Designer Extension for demo purposes that will enable users to "walk around" a drawing in full-screen mode using gaming controls, a new addition to their space-planning software for commercial industries.
We're also excited to see some of our favorite brands expanding into the commercial space. The West Elm Workspace with Inscape features furnishings that make you feel like you're at home when you're at work. From modular seating, heigh-adjusting bench systems and high-performance Designtex fabrics, the latest additions build upon their existing collection to add even more options and flexibility to the office.
Also, Uhuru is launching their very first official commercial line under the name Uhuru Contract, bringing their black and wood signature style to the office environment.
Designed by EOOS for Herman Miller, the Geiger Rhythm casegoods give that homey feel and bring #warmth to any office environment. We are excited to relax in the Herman Miller lounge, too!.
Other exciting features to note: IdeaPaint's new mobile collaboration system, designed in partnership with Primo Orpilla of Studio O+A, check out Mohawk's latest carpet tiles. There's endless stuff to see, and if you're looking to see the future of office design and the workspace, or get an idea of how you'll be working in the future, this is the show to check out.
We might even slip in an afternoon nap in one of these Metronaps EnergyPods, a system that provides a pre-programmed 20-minute nap that leave you refreshed!
All that and tons of workshops, keynotes, and CEU seminars… you better hurry up and get registered!
Additionally, pop on over to Luminaire Chicago on 6/14 from 6:30-8:30 PM, and join Patrizia Moroso and Patricia Urquiola for an intimate design conversation. RSVP here. We'll see you there!