The following post is brought to you by Parachute. Our partners are hand-picked by the Design Milk team because they represent the best in design.
I was first introduced to Parachute's bedding back in mid-2015 when I was deep into the redesign of my bedroom: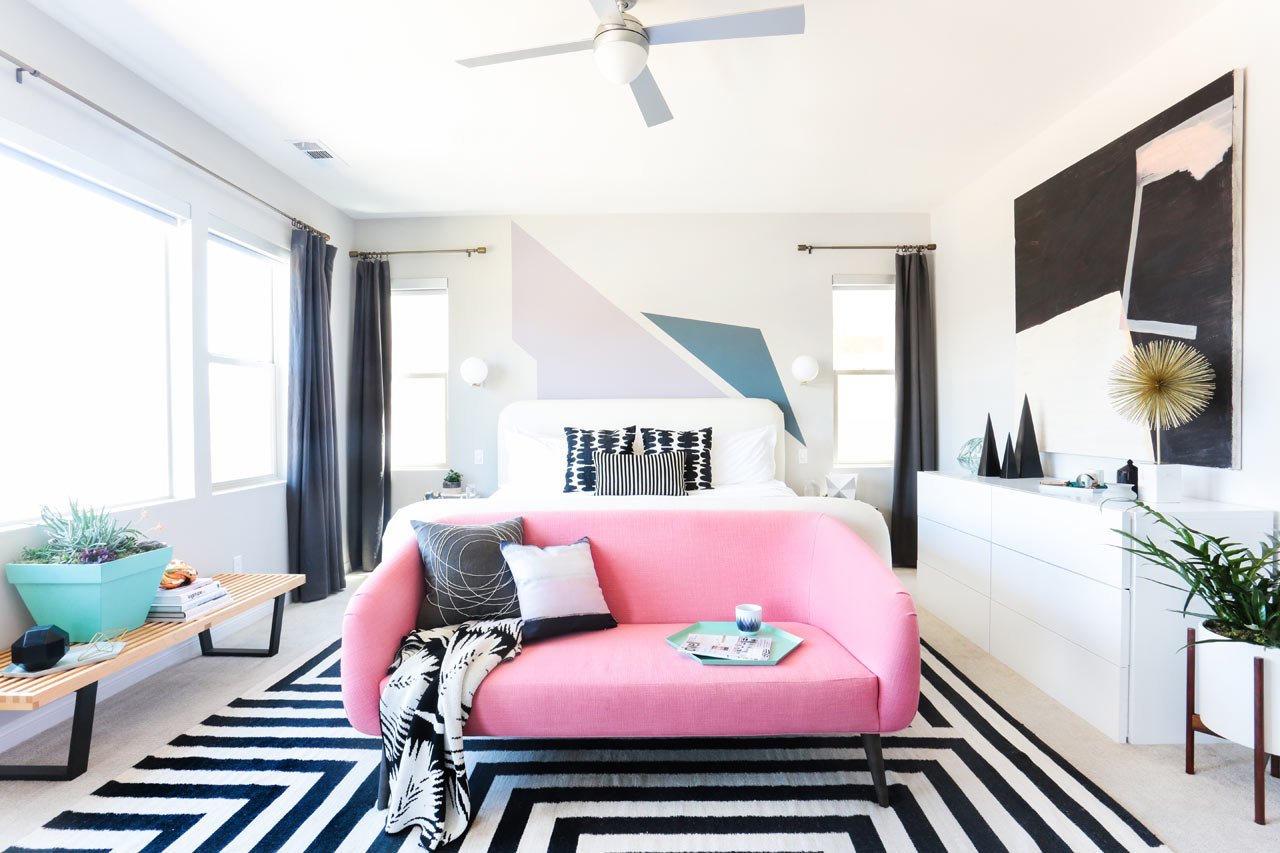 They sent me a very simple white duvet and sheet set to try out; I have always thought clean, crisp white sheets and bedding are the way to go… there's just something so luxurious—kinda fresh—about white bedding. Makes you feel like you're on vacation at a fancy hotel. Most of the time, I buy sheets and duvet covers willy nilly at big box stores (and usually when they are on sale!). I had only ever owned one other set of high-quality sheets and lemme tell ya—the difference is like night and day. When you open a package of high-quality sheets and feel their thickness, it's like an ah-ha moment. *Cue angels singing* Sleeping in a bed that has quality bedding is like taking a shower versus bathing at the spa, or maybe like an itchy wool sweater versus cashmere… you get the point: total relaxation and maximum coziness.
Parachute sent me some samples of their new bath line. Previously, bath towels, washcloths, robes, and such are also items that I would typically purchase at a big box store. Not anymore… I've had a taste of luxury and now I can't ever go back. (help!) However, the beauty of Parachute is that these items ARE luxurious BUT NOT expensive. Competitive enough to break me of my big box store habit.
I received a set of their Aero Cotton towels and an Aero cotton robe. I've been wearing the robe every single night since the day it arrived. No kidding… I work from home, so sometimes I even put it on during the day and pretend I'm at a fancy spa.
They just expanded their bath collection to include even more essentials including tub mats, bath rugs, and shower curtains. I love the simple striped shower curtain with the fringed detail, which they told me was inspired by Turkish fouta details, an homage to the place where they're made.
Their products are Oeko-Tex certified. Don't know what that means? That's OK, I didn't either. In short, it's a certification system that ensures textiles are eco-friendly—similar to FEC-certification for wood.
Being nosy and interested in design process and manufacturing, I asked Parachute to tell me a little bit more about their process. Yes, they make mostly white towels and bedding, which you wouldn't think was too big of a deal in terms of design and production, but you'd be surprised that sometimes the simplest designs are the most challenging. I spoke with Parachute's Creative Director, Amy Hoban, who explained that Parachute's bath essentials are part of their mission to create a comfortable home and gender-neutral products that are clean, modern and can complement any style of home or decor.
Amy told me that the Parachute team works to find the best artisans, and in this case it led them to manufacture their bath textiles in Turkey, a country known to make some of the best towels in the world.
Finding out what people want in a towel seems like an easy task but something this simple can sometimes be a tough challenge, Amy noted: "We realized people had very strong feelings around what they were looking for in a towel. Our goal was to make towels that were absorbent, soft and dried quickly." She explained that in order to do so, they employed Aerocotton technology, which is a spinning process that the cotton is put through that allows air to pass through the fibers, allowing them to get the softest and most absorbent results. For more details about their bath collection including styling and trends, check out this blog post (pro tip: plants are the bathrooms trendiest accessory!)
However, making them all of those things in addition to being soft, attractive, and sustainable is a hurdle, so the team focused on also making sure that the products could also be Oeko-Tex certified with no harsh dyes or chemicals used in the process. From a design perspective, the team spends time each season putting together inspiration boards that tell the story of their products, pulling color and fabric references together until they've got a clear vision for the collection. Amy says, "we make sure the end products maintain the brand integrity." And lastly, they want their products to be livable for everyone, which means that they actually use their own products; Amy mentioned "There was a point when everyone in the office had tried a robe on to get the sizing just right!" Sounds like my kinda job…
Check out the full Parachute bath collection here.
Psst… if you're in LA, check out the Parachute Hotel, too!

Design From Around The Web