When I shared the initial design of my master bedroom plan created with Orlando Soria of Homepolish, I told you I was scared. Not because I didn't trust Orlando, but mostly because as things were delivered piecemeal, I couldn't really visualize the end result. Plus, I'm Type A and I always feel like I need to do everything myself, so putting things in someone else's hands is always out of my comfort zone. Well, all that worry was for naught because, boy, am I in love with my master bedroom!
I think the thing that made me happiest was when people told me on Instagram that my mood board looked like one of my paintings. This reinforced the fact that Orlando really created a space that reflected who I am as a person. When you walk into my bedroom, it feels like ME. This was so important to me in the design process; I never wanted a space that felt generic. Totally nailed it!
Here is the final mood board Orlando created:
And here is the final room!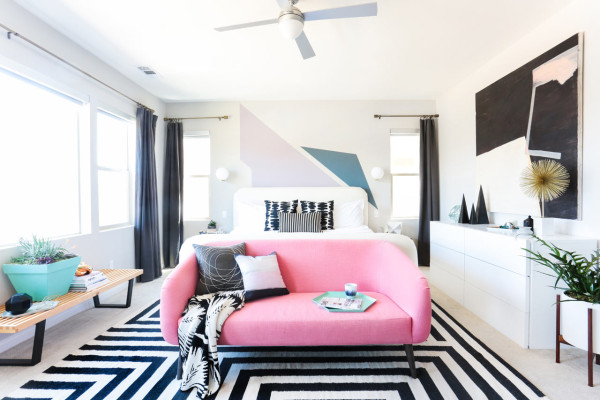 Where do I even start telling you about all the awesomeness? Well, let's begin with the pink sofa, which I mentioned in my last post – it's the most incredible shade of cotton candy pink and surprisingly didn't take much convincing for Mr. Design Milk to agree! The west elm dhurrie, the bed (which I bought locally), and the painted wall mural create a really cool, colorful focal point that brings together hard lines with soft curves.
We get a lot of natural light in our room, which is awesome for daytime and for taking amazing photos, but we love sleeping in pitch black. Even with our blackout shades, we still had a little light coming in on the sides, so we worked with Barn & Willow on custom linen drapery with blackout lining. Most linen feels thin and lightweight, but their quality linen was nice and thick in a cozy shade of dark, warm grey – and a perfect fit!
With all that natural light and overhead lighting, we didn't need more than the two simple FLOS sconces beside the bed. We had an electrician come and add personal dimmer switches to each side so we can read or work at night without disturbing one another.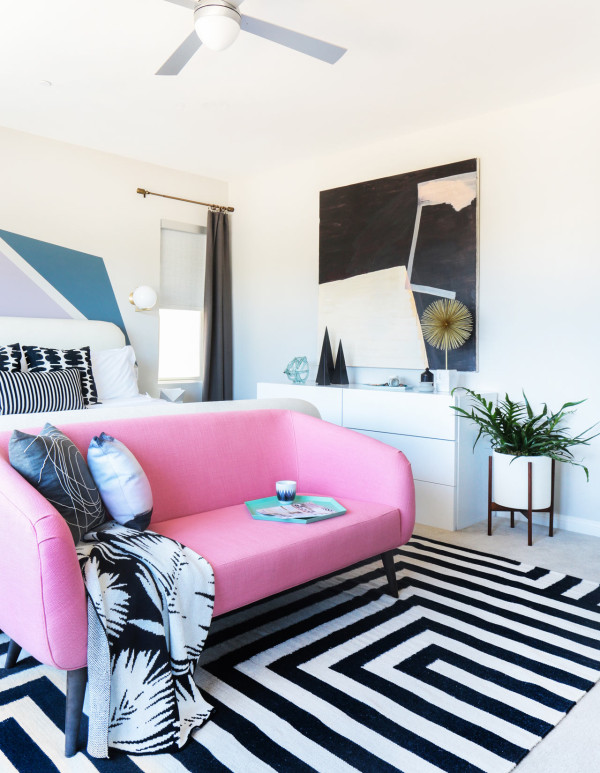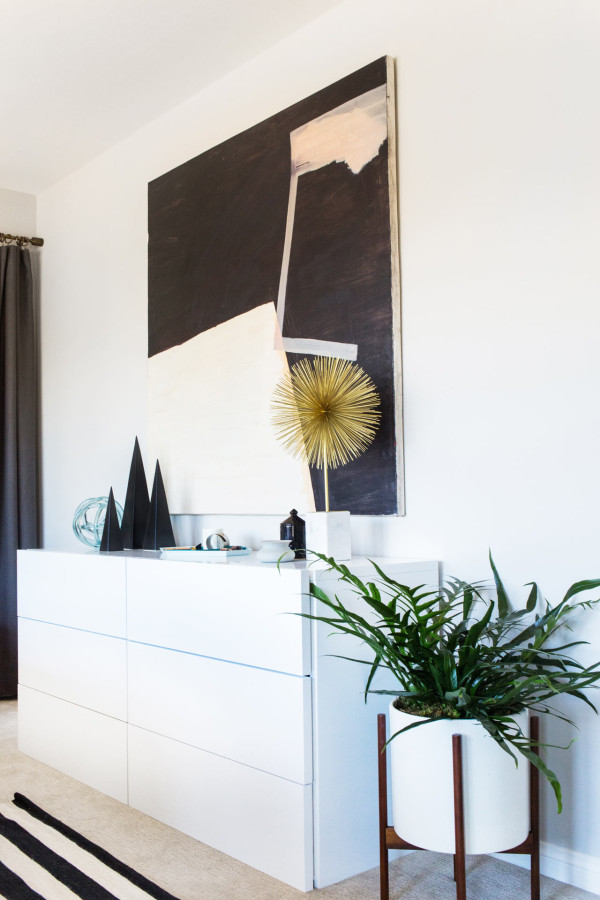 Selecting art is hard. I mentioned in my previous post that I worked with Saatchi Art to help me find the right art for the room. I fell in love with this painting and the rest is history. I'm a firm believer in only buying art that you love.
Another really hard thing for me is choosing accessories. As a minimalist who can't stomach too many tchotchkes, I left it to Orlando to find the best stuff and put it where it should go. From the starburst sculpture from Chairish to the black Pyramids by DwellStudio via Allmodern, he did an awesome job choosing the right objects that made the room feel complete without feeling cluttered.
One of the most challenging aspects of this design was finding pieces that complemented each other without feeling matchy matchy. Orlando is an expert at that and he discovered this tall chest and this dresser that worked really well together in the room and had more than enough storage for myself and Mr. Design Milk.
I'd also been coveting these blu dot nightstands and was so glad they worked out in my room.
It's hard for me to say no to white bedding. I always find it to be the most luxurious – it makes me feel like I'm at a fancy hotel. The high-quality linens we used from Parachute add an extra level of luxury that you can't communicate through words and pictures. Let's just say I plan to take a lot more naps in the near future…
The black and white pillows play on the black and white boldness of the geometric rug and the soft slate blanket from Room & Board adds a little bit of texture and warmth. Needless to say, it's hard to get out of bed in the morning.
The mural was the one part of the room that came together right at the end. You'd think that we'd have started with it, but we piled up so much inspiration on our Pinterest board that we couldn't decide what to do. Orlando came to my house and we decided to completely wing it. We took some painter's tape and just started taping shapes up onto the walls. When we were satisfied, we perfected the tape lines and painted. Super easy, completely terrifying but spontaneous and amazing! :)
Source List
Furniture
Bed – Clay's Classics
Sofa – rue apartment sofa from cb2
White dresser – Allmodern
Tall chest – cb2
Nightstands – blu dot via Allmodern
Bench – Herman Miller Nelson Bench
Side table – west elm Nolan Side Table
Blue/green planter on bench – Home Depot
Floor planter – Case Study Planter by Modernica
Lighting
Ceiling fan – Ball Ceiling Fan by Modern Fan Company
Sconces – FLOS IC Lights
Textiles
Window shades – Décorview
Drapery – Barn & Willow
Curtain rods – Crate&Barrel
Bedding – Parachute
Blanket –  Room & Board
Throw – Paradise by Happy Habitat
Rug – west elm
Striped throw pillow – Gandia Blasco Gan Spaces Cojín Pillow
Black and white patterned pillows – west elm (discontinued)
Gray couch pillow – Bholu
Black and pink couch pillow – Society6
Accessories
Blue/green glass knot paperweight – west elm
Starburst sculpture – Chairish
Geometric Ball Sculptures – Allmodern
Brass hand sculptures – Allmodern
White star object – Allmodern
Spiky ball sculpture – Allmodern
Pink geometric object – Eric Trine
Black pyramids – Allmodern
Quartz crystal – Chairish
Copper knot sculptures – Allmodern
Trays – HAY from A+R
Lidded silicone jar – Finell
Tipsy object – Bower
Water glass – Ferrone
Purple cup – BoConcept
Walls
Mural art paint – Benjamin Moore, Thousand Oceans 1645 in Aura Interior, Matte Finish and Benjamin Moore, Dusk to Dawn 1446 in Aura Interior, Matte Finish
Art
Mural – Jaime Derringer and Orlando Soria
Large painting – Something Else by Aimie Herbert
Small painting – Untitled by Jaime Derringer
Photos by Tessa Neustadt for Homepolish.
If you like my room design, check out the Pinterest board we created with lots of inspiring products and designs. Special thanks to Homepolish for providing their services to me and to all the great companies we worked with on the design.