Meet Plumb, a new stationery brand from the creative and clever minds behind Knock Knock. The idea behind Plumb was to not only design good quality notebooks that people want to use, but to collaborate with artists to envision, design, and illustrate them, down to every last detail.
The Plumb team will collaborate with three artists each season to design the blank notebooks that they want to see in the world. Aimed at people who think creatively, the Plumb line is made to help aid in the creative process, to be more then merely the vessel, but be part of it. Each product is carefully considered and even includes a postcard with artist interview and artwork.
Here are the first three artists and some of their designs:
San Francisco-based artist Tucker Nichols is best known for his smartly funny drawings and large-scale gallery installations. We especially love his 3 Little Notebooks for easy portability as well as his Explorer notebook, which includes a pocket for ephemera.
Sumi Ink Club is a participatory drawing project established in 2005 by Los Angeles–based artists Sarah Rara and Luke Fischbeck. The club produces work collectively in meetings which are open to the public and can be organized by anyone, anytime. Sounds like so much fun!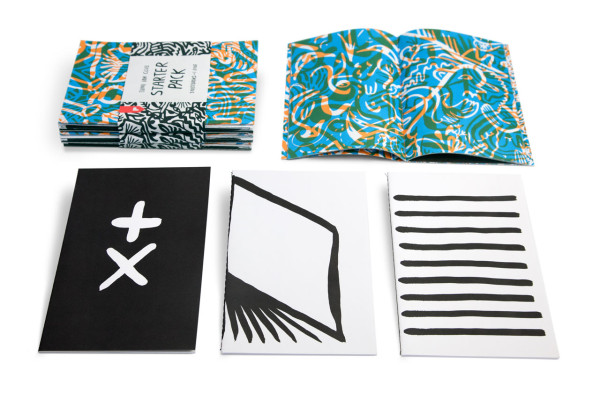 We love the Sumi Starter pack, inspired by the simple construction and self-publishing of zines, and also by the idea that notebooks could be a place where something is made to be shared. We also love how the Day + Night journals allow people to have two parallel but opposite journals going at once—one all white, one all black—to accommodate the different sides of themselves.
Katherine Bradford is best known for her paintings of boats and of Superman, so you know her playful nature needed to be expressed in this line of products. Her Short Stack notebook was inspired by her own handmade calendars. She likes everything in her appointment book to be something she draws, which ultimately allows her to connect her thought process with making a hand-drawn mark. Love this idea!
Her Mini Superhero Notebook features a superhero painted on the front—keep this one to help you launch your super, high-flying ideas.
See the entire debut collection at plumbgoods.com.

Design From Around The Web