Grain Brings Good (Luck) Vibes With the Clover Collection
Grain Brings Good (Luck) Vibes With the Clover Collection
1/27 Photos
2/27 Photos
3/27 Photos
4/27 Photos
5/27 Photos
6/27 Photos
7/27 Photos
8/27 Photos
9/27 Photos
10/27 Photos
11/27 Photos
12/27 Photos
13/27 Photos
14/27 Photos
15/27 Photos
16/27 Photos
17/27 Photos
18/27 Photos
19/27 Photos
20/27 Photos
21/27 Photos
22/27 Photos
23/27 Photos
24/27 Photos
25/27 Photos
26/27 Photos
27/27 Photos
Presented by design co-op Colony, design studio Grain is launching its newest designs this week with Clover, a collection of cork tables in the form of a four-leaf clover. For Grain, cork continues to be a material of fascination, as it is rapidly renewable, carbon positive, and completely biodegradable. It's a material that's tactile to the touch (almost like velvet) and beckons your touch and interaction.
The Clover collection consists of two tones of cork: the lighter one that is most familiar, and a darker, chocolate brown tone that's achieved by toasting the cork. The latter allows for manufacturers to use Grade B cork that is usually looked over for its imperfections, as toasting hides these flaws. The clover motif is simple yet playful, adding an element of joy to interior spaces. What's more is that the four-leaf design can be adapted and changed to create custom configurations. Chelsea Minola, co-founder of Grain, shares that, "The more time we spend with these pieces, the more delighted we are by the relationships of the four leaves coming together. You experience new compositions depending on your view. I am also struck by the richness of the dark brown cork. It gives off this very grounded and earthy feel that is echoed in the soft hand of the surface texture."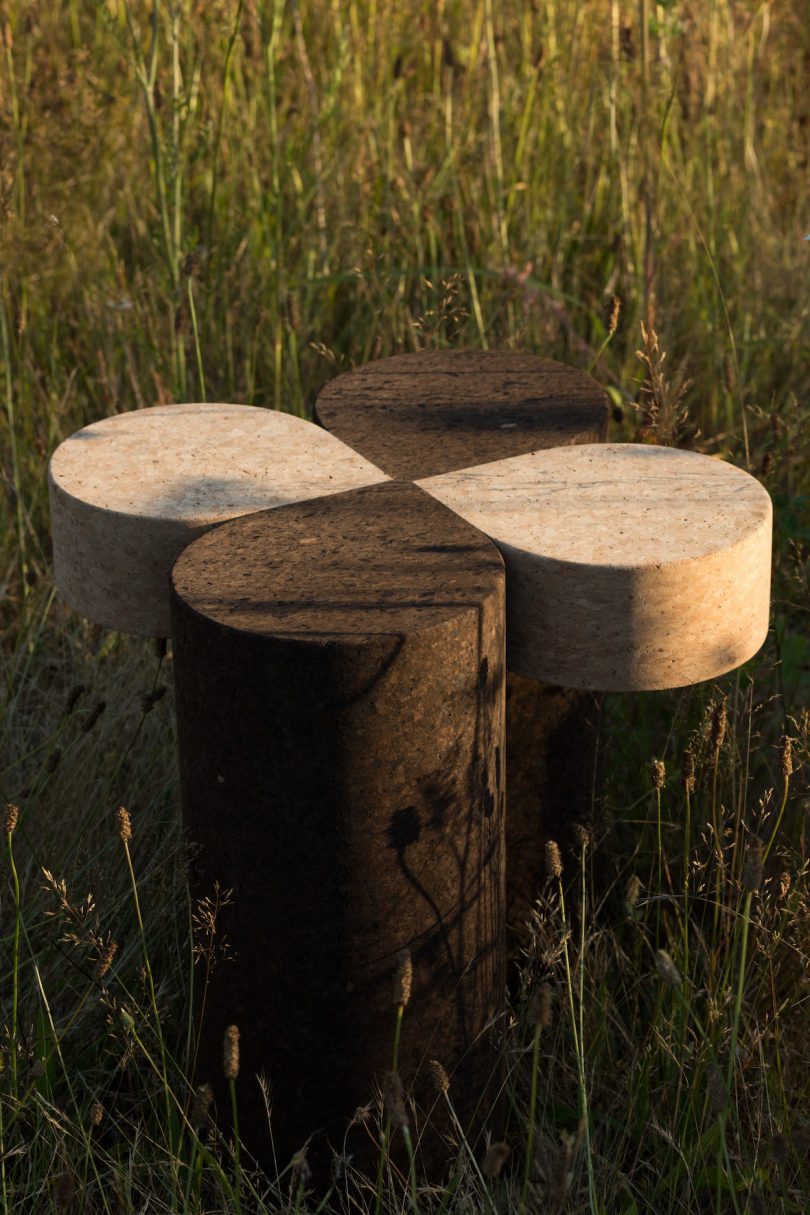 Clover by Grain is on view from September 22-30, 2022 at Colony's showroom in New York. To learn more, visit goodcolony.com and graindesign.com.
Photos by Ben Blood.