Italian design studio Studio 06 has a new collection of projects designed for Youtool and produced by Curti Metallo that includes a fun hat-shaped table named El Sombrero.
The three products in this collection are El Sombrero, a coffee table, pictured above also, and two stools named Saddle and ICS.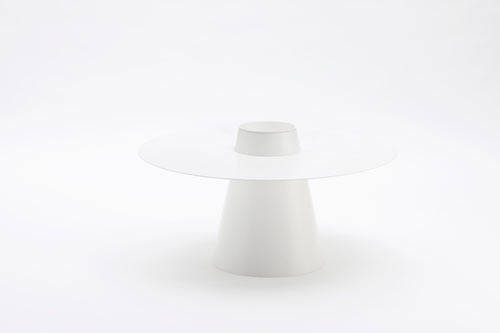 El Sombrero is made of powder-coated steel and is available in three color finishes: all white, white with red central container, white with yellow goose beak center container. The table is assembled very easily only three moves and four screws.
The Saddle Stool is made by folding a single sheet that mimics the saddle of cowboys, inviting you to ride it. The small size and the linearity of the slide structure enable Saddle to be stackable. Saddle is available in chrome-plated steel or white frame, powder coated, with declension of "saddle" in three colors: white, red, yellow goose beak. We love how it looks so lightweight and minimal, but so functional (and space-saving!).
The essentiality of the design and dimensions of ICS make it very versatile. The seat is made by folding a single sheet iron and steel reaches this visual results of extreme lightness, like origami. ICS is available in three colors: white, red, yellow goose beak. The clear reduction of composition make ICS, and as such, suitable for furnishing intimate spaces and collective spaces. I love how this looks very complicated and yet, so simple.

Design From Around The Web