Heckler Design wants us to forget everything we know about placing our televisions within our homes – beyond displays situated on top of a console or installed hanging from a wall. The free-standing and patented Heckler TV Stand liberates the TV from being a wallflower and opens possibilities where the TV isn't hidden from view, but instead becomes a central component of a room's furnishings.
Designed by Dean Heckler for 55-, 65-, and 75-inch flat panel TVs, the stand design is height adjustable and engineered to be securely stable utilizing a low center of gravity dimensions. The entire set-up sits atop of four no-scratch feet, while two VESA-compatible arms not only hold the display securely upright, but also permit wires and cables to stay out of view.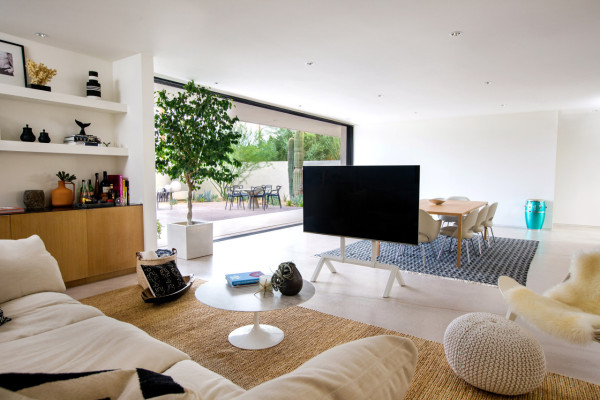 Additionally, Heckler Design will offer an optional AV Component Shelf accessory, alongside the option to add roller wheels onto the feet for easy repositioning. For anyone who has wished for an easy way to move a television from one room into another – or outdoors – the Heckler Stand's unobtrusive design might be as close as one can get to a floating TV stand.
The Heckler TV Stand is available for pre-order in six color finishes at the price of $499, with shipments scheduled for November.