The following post is brought to you by Hightower. Our partners are hand picked by the Design Milk team because they represent the best in design.
When envisioning work environments of the future, there's a tendency to limit discussions framed mostly in accordance to "Internet of Things" technologies – a top layer added onto and into spaces. But there's also a concurrent evolution happening right now in furniture, with the industry anticipating the functions and flexibility required of digital workspace, thoughtfully and aesthetically. The Elemental Collection by Hightower exemplifies the migration away from yesterday's yawn-inducing tropes of "office furniture," infusing an approachable modern aesthetic facilitating connectivity and connection within the workspace with a rare attention to shape, texture, and color.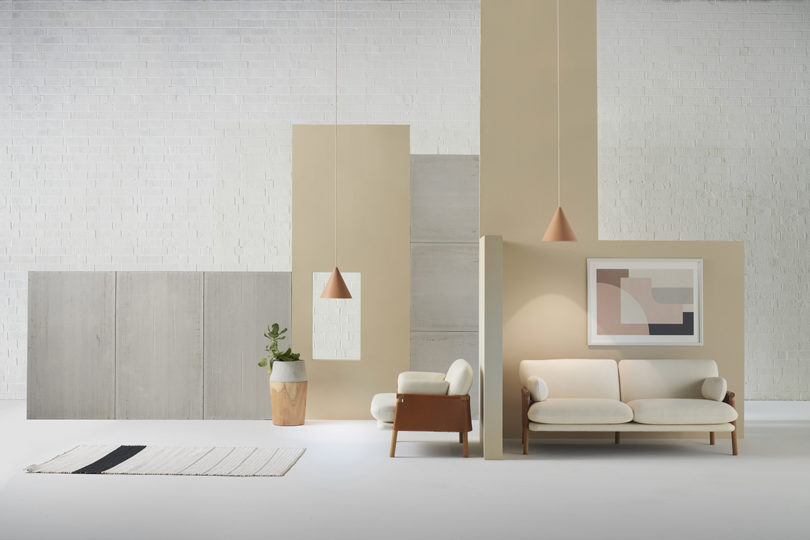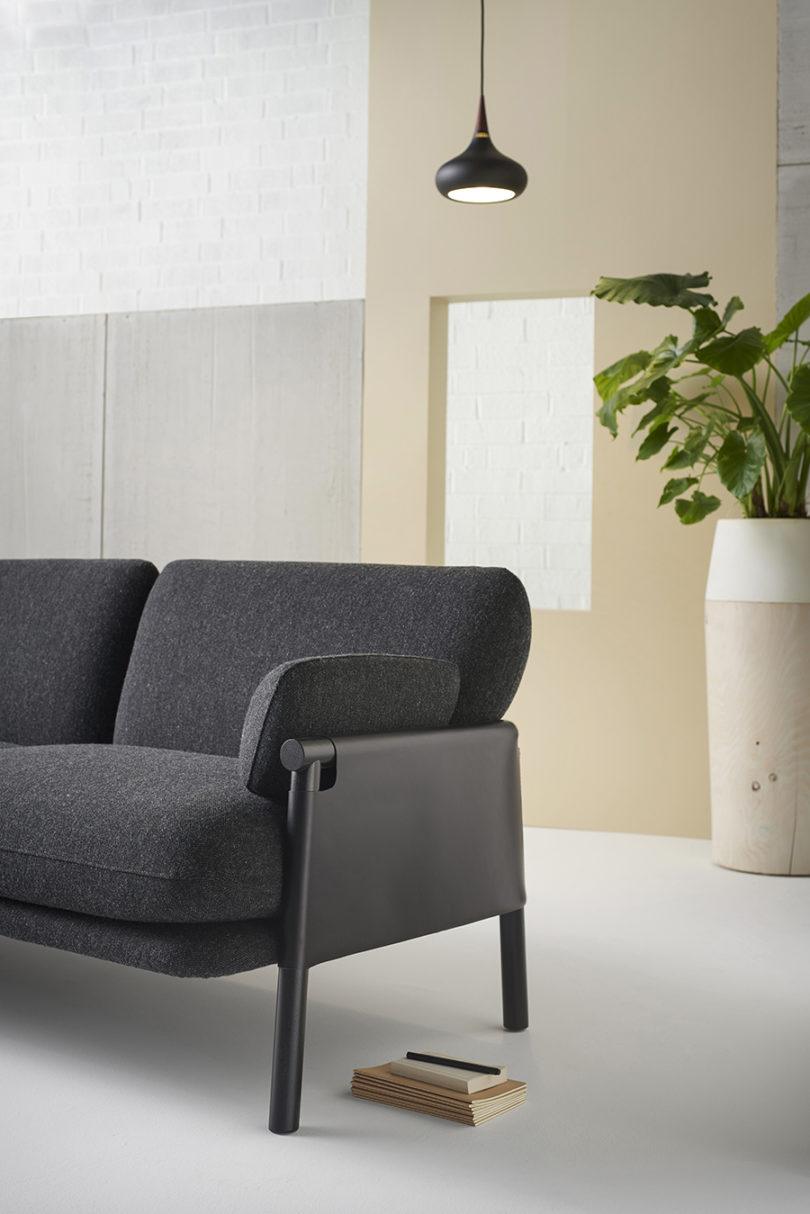 Building upon the foundation of their most recent 2018 Spring/Summer Collection, the origins of the Elemental Collection bring together talented designers from Copenhagen to California, all unified by a soothing monochromatic Scandinavian palette and airy silhouettes. In the case of the Savannah Sofa and Chair, designed by Monica Förster with Erik Jørgensen, the high-backed hand-sewn cushioned profile recognizes shared spaces require comfortable communal seating, delivering plush and supportive surfaces connoting the calm of a home.
The modern work space today emphasizes flexibility – physically and functionally – and the Kona family designed by California-based Most Modest answers the call with an alternative form of seating designed for casual, "pull up a chair/pouf" meetings (facilitated by the Pouf's rounded, ultra-durable leather bottom designed to stay put while seated and slide easily when using the built-in handle). Comprised of four different sizes, available in smaller Pouf and larger Perch designs (from 36″ width all the way to 80″), the range operates across the spectrum as an alternative to a traditional chair, stool, or bench, each version available for upgrade with USB and power ports on the side.
Varying seat heights stand out to me as one unique aspect of our latest collection. The positive reviews we received when we introduced the Nest series, the first bar-height lounge collection, validated our belief that workspaces featuring varying seat heights better facilitated collaborative environments by welcoming impromptu conversations.

With the introduction of Kona Perch, we have a new category of seating that allows someone to lean against the piece for short duration pauses while waiting for a meeting to start or quickly chatting with a colleague.  We believe offering this casual perch seating increases approachability. And we made sure Kona Perch was easy to maneuver around the office by attaching a sturdy end handle, similar to its very popular sibling, the Kona Pouf. The optional power unit with face plate color choices plus a fabric wrapped cord takes Kona Perch to a next level of functional design.
-Natalie Hartkopf, Co-founder & CEO
The binding philosophy tying together Hightower's modular system of seating, tables, lighting, and accessories for the workspace: "the power of simplicity." "Simplicity," expressed by clean and modern forms partnered with a contemporary palette, while "power" plays prominent in the form of integrated charging features situated to seamlessly appease device needs.
The Phase Cork Table, shown above with the face plate (shown in Cloud, one of ten color options available) and Graphite cord, offers a compact, easy-to-reposition, and natural side table outfitted with charging outlets. The compact design works equally well standing alone in the open or as a sidekick to larger seating (as shown above alongside with the For Now Sofa), with its natural material complementary in almost any decorative scheme. And if the Phase's shape evokes thought of a wine cork, your intuitions are correct, with the material sourced from high quality cork from Portugal.
Those partial to working and talking on their feet will find the Linden Standing Table an elevated work surface design; the long horizontal length creates an informal gathering point to converse, recharge devices, or even meet for a working lunch with an optional 2 USB port/1 outlet adding utility in the center.
The Shed's understated, matte hand-finished ceramic shade creates a soothing contrast to the pendant's even LED glow emanating from a bulbless white ceramic interior finish casting warm and even illumination from above. Whether hung solo or grouped in multiples, the design presents a graphical presence whether on or off.
To learn more or order from the new Hightower Elemental Collection, visit Hightoweraccess.com.

Design From Around The Web