We don't do traditional gift guides here on Design Milk because everyone does them; we like to be different. A few years back, we did staff wishlists and once again we thought it would be fun to continue this new tradition and ask each current contributor what was on their wishlist this holiday season. So, for the next two weeks we're featuring staff wishlists — see them all here. Here are some items on Marni's wishlist: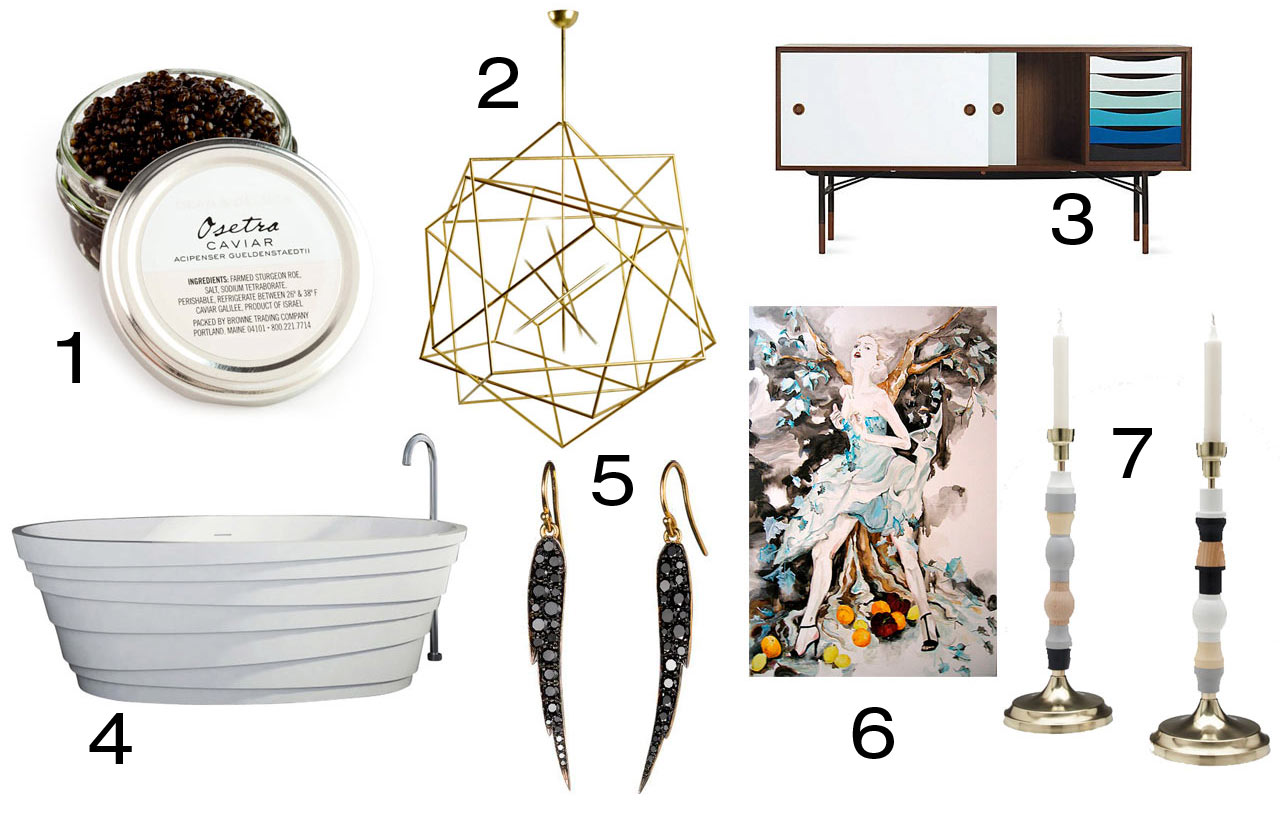 1. Ostera Caviar
I once had a boyfriend who worked at a company that did a deal with a well-known caviar shop in Manhattan. I became quite spoiled for a few month. These days, it's a once a year indulgence, paired with creme fraiche and Bellinis.
2. Polyedres Chandelier by Hubert le Gall
I spotted this Polyedres chandelier by Hubert le Gall on 1st Dibs some time ago, and have been hanging onto the jpg in iPhoto ever since. I actually need to pick a fancy fixture for my living room, and this would indeed be perfect. The brass finish would play off the pair of vintage brass lamps I picked up on eBay, while the sharp angles would contrast with the curves of my leafy Angela Adams area rug.
3. Finn Juhl Credenza
As if I didn't love mid-century modern furnishings enough already, I visited Copenhagen on a design press tour two Thanksgivings ago, and fell in love anew. My favorite part was Finn Juhl's home on the outskirts of the city. This credenza is a newly introduced piece that incorporates the design of the side tables found in Juhl's bedroom.
4. Contemporary Bathtub by ADM Inc.
What I want more than anything is a decadent bathtub. Right now we have a big shower in an ugly bathroom. It would take major renovation to improve it. This glossy stone resin freestanding tub has an interesting look.
5. Finn Black Diamond Angel Wing Earrings
That this design label is also named Finn is purely coincidence. I've been coveting black diamonds and love the winged silhouette of these danglers. Alas, even dark beauties are quite pricey.
6. Daphne and the Laurel Tree by Elisa Johns
Shoulda, woulda, coulda. It was love at first sight when I saw the artwork of Elisa Johns at Walker Contemporary in Boston, and even brought my husband to see it. It's always hard to pull the trigger on high priced non-essentials, but I sill love this oil painting. Hopefully it went to a good home. I also adore "Marie on Rug." Wonder if it's still available?
7. Candlestacks by Victoria Delany
I wrote about this brass and neutral wood version of British designer/silversmith Victoria Delany's classic-meets-contemporary CandleStacks over two years ago, and still think about them. They'd be especially perfect on the table in my new South Florida condo, which I'm decorating in white and pale wood.

Design From Around The Web