I'm pretty sure people would be a whole lot happier if they were able to come to a space like this to work. The worldwide vacation rental company, HomeAway, has grown so much they had to create a new office space. Since the company is all about vacations, they created a headquarters in Austin, Texas that more than reflects that, all while achieving LEED Gold Certification. If only we could all work in a place like this…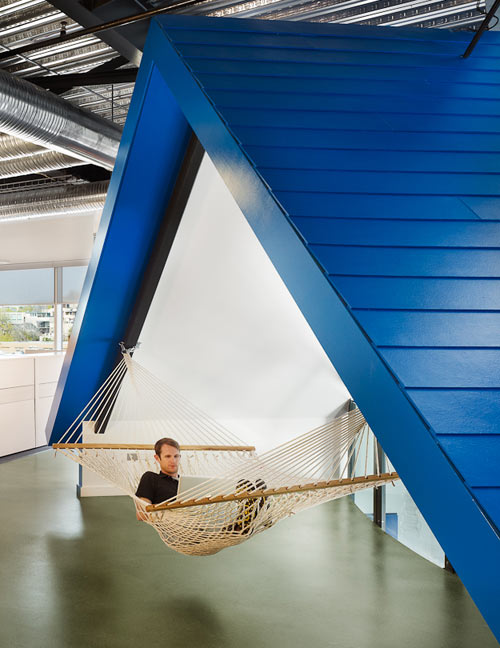 Every office should have a hammock!
The company initially acquired several vacation rental websites and put them on one platform. The kitchen table pays homage to the companies they took over, some of which ran their businesses from their kitchen tables.
They've created an enormous snow globe collection which was started by the CEO challenging the employees to collect 500 of them by the time they opened in 2009. Each globe represents a $50 donation to Habitat for Humanity. The employees collected more than 600 of them and the donation was capped at $25,000.
Does the car look familiar? It should. It's a fully functioning replica of the Griswold's wagon from the film National Lampoon's Vacation.
The staff playing shuffleboard.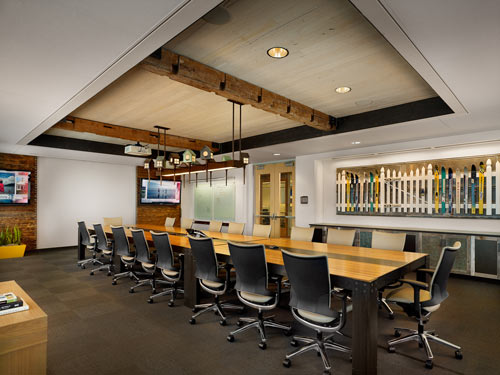 The open workspace has low glass dividers that provide a little privacy while still encouraging interaction between employees.
A rooftop deck!
Developer: Schlosser Development Company
Contractor: Balfour Beatty (FKA Spaw Maxwell)
Building Designer: Brad Nelsen of Nelsen Partners
Interior Architect: CTA Architects Engineers
MEP Engineer: Kent Consulting Engineers