This house by Archivi Architects is located in the residential quarter that extends to the foot in the Mt. Akibasan Park located in the east part of the Wakaura Bay in Wakayama City. According to the architects, Wakaura Bay is one of the eminent scenic sites in Japan.
The shape of the site is transformed with a center garden inside this narrow lot. The garden is visible from each point of the house because of the use of glass doors and walls. The corridor of glass has added the function of a gallery to exhibit the grandfather's collection. Moreover, the deck extends the use of the outdoors and incorporates it with the indoors as one area. Living spaces have been linked by various scenes without dividing into defined areas or sections.
Japanese cedar and cypress from are used for the main structure, flooring, siding, and the lattice material.
The material selection was dictated by the nature of the project, by trying to evolve the construction methods into one with more sustainable roots. One example, was the use of Lauan plywood for the ceiling and inner wall surfaces, which is a locally-harvested material.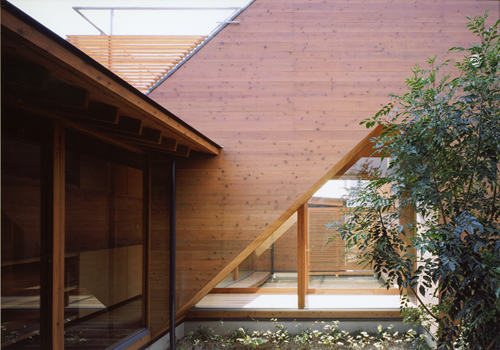 Location: Wakayama, Japan
Architects: Archivi Architects (Seiichi Kubo, Yoshinobu Kagiyama, Mine Muratsuji
Principal Use: Residence
Structure: Wooden
Building Area: 1162 square feet
Total Floor Area: 1431 square feet
Scale: 2F+ Penthouse
Photographs: Yutaka Kinumaki