In the Westlandse Zoom dunes in the South of Holland, Global Architects were hired to design a minimalist modern house in this beach locale. House as a Rock becomes a sculptural form that materializes out of the dunes just like a rock would, hence its name.
A traditional gable roof was eliminated and instead, the house and roof join together giving it its modern look. A light sand color was chosen for the brick to give it that rock-like appearance and so that it would blend in with the dunes.
The four sides of the house each have a different look, two of which display a cut-out close to the roof. The south side of the house opens up towards the water to offer beautiful views.
The living spaces on the south side feature large windows that bring the feeling of the outdoors in, no matter the time of year.
The interior is just as unique at the exterior as each space is completely different. Even the windows are all different sizes.
The light wooden floors from Dinesen Floors have a slightly weathered feel, grounding the large open spaces with white walls.
To make the house more sustainable, they installed 2 x earth thermal ground heat pumps 135 meters deep to help the house be more CO2 neutral. They used insulation with a higher value than recommended, a solar heater, and low temperature heating and floor cooling.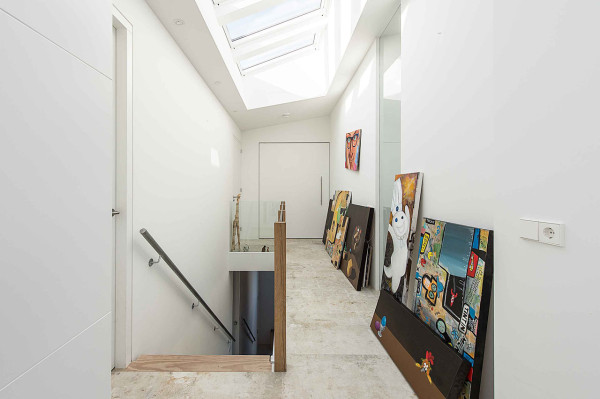 Photos by Mirko Merchiori.