YLiving sent me an Urbio modular wall storage unit called the Big Happy Family. Mr. Design Milk and I installed it a few weeks ago in our kitchen. It's so easy to install! Here's how it's done.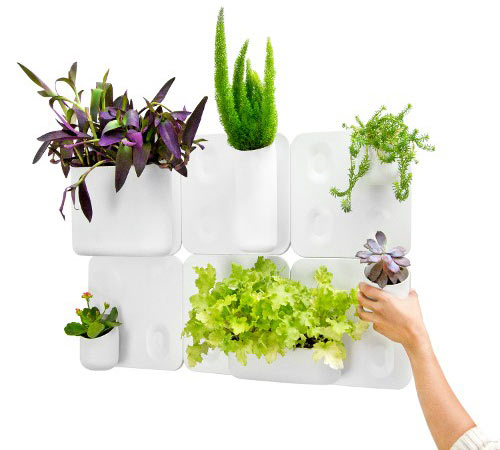 First, make sure that you're positively sure where you want your Urbio because it makes a zillion giant holes.
Drilling those holes is a serious commitment!
Urbio has a handy poster that acts as a template and instruction manual. You simply hold it up to the wall and use thumbtacks or pushpins to create small holes so you know where to drill.
It also makes a big mess.
At first, we hung all of the X-frames at the same time, but when it came time to snap on the caps, we had a hard time getting them fixed into place. So, we removed each one and then installed them individually. WAY better.
Once we snapped each piece on to the frame, it was just a matter of organizing. Since the Urbio pieces are modular and affix to the backing using magnets, we can move them around at any time.
Ta-da!
Since I have a black thumb, we decided to add all the stuff that sits atop our kitchen desk onto our Urbio for now. As we accumulate more stuff, I'm sure I'll want to add more pieces! Wouldn't it be so cool to do an entire wall in Urbios?
Photos from the design_milk Insragram account.