You may have noticed how wallpaper has made a mighty impressive comeback over the last several years. You no longer have to live with painted walls and with the latest technology from HP, you can actually digitally print your own wallcoverings on an HP Latex printer. That means, you can create your own design and have it digitally printed by one of the many companies (New Era, 4walls, FlavorPaper, etc.) that owns one of these printers. Or, if you're thinking of starting your own line of custom wallcoverings, you can buy the printer yourself and print out your own designs!
We came across the HP booth at WantedDesign (see here and here) this year and were pretty mesmerized by the whole process. With this technology, you can do short runs of a design, just one wall, or print as many as you want, eliminating the costly screen or cylinder that's required to be made through the traditional wallpaper route.
With the HP Latex Printing Technologies, you can also print on a huge array of materials like non-woven wallpaper, paper, self-adhesive vinyl, PVC-free media, coated substrates, uncoated substrates, embossed media, and textiles. The printers also use water-based HP Latex ink so you won't have the typical odors.
For WantedDesign, HP enlisted designer Karim Rashid to use this technology when creating a lounge space for the event. He put his signature touch on the space, giving the patrons a futuristic place to relax while visiting the exhibition.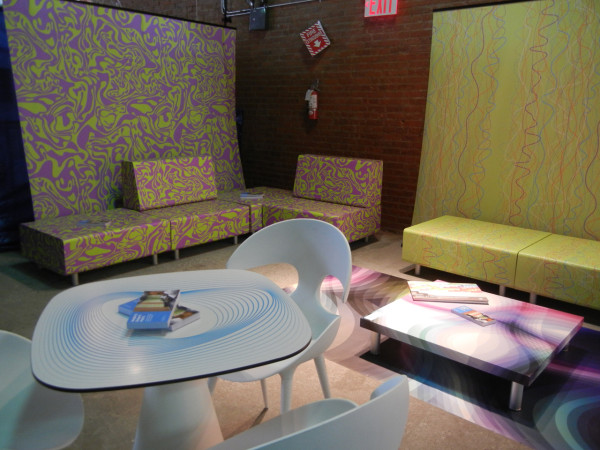 Design From Around The Web