Hey readers! As you know I'm headed up to ICFF tomorrow morning, and will be tweeting live like crazy on the @designmilk Twitter account. For those of you in NYC and ICFF attendees, we've teamed up with a bunch of great blogs and The Standard hotel and Dwell to create the ultimate NYC Design Week contest — it's called #ObjectHunt.
The Gist
8 top design blogs have gotten together to place vinyl stickers (with permission) around design landmarks of New York City.
Throughout Thursday May 13th to Tuesday May 18th, visitors to ICFF and New York can snap these images, Twitpic them with and post on Twitter with hashtag #ObjectHunt.
These are entered into a random draw for the grand prize of the Ultimate Design Getaway package courtesy of The Standard hotel, NOTCOT, and Dwell.
Stickers are just starting to go up and more will keep appearing throughout the weekend!
The Grand Prize
One lucky winner selected at random will win the following Ultimate Design Getaway package courtesy of The Standard hotel, NOTCOT and Dwell:
2 Nights Stay at The Standard, Downtown LA in a "huge" guest room with a deep tub and daily breakfast for two. Visit The Standard on Facebook and follow them on Twitter: @standardny and @standarde.
2 Home Tour tickets to Dwell on Design in LA, June 25-27; includes a weekend pass and a choice of a Eastside or Westside tour. Courtesy of Dwell on Design, a preeminent modern design show for the design trade on the West Coast.
A puppy! That is, an adorable Eero Aarnio designed toy puppy from the "Me too" children's collection, courtesy of NOTCOT.
The Blogs
A Twitter list of participating blogs & peeps is located here: http://twitter.com/StanDarde/object-hunt/members
NotCot: "NOTCOT Inc is a network of design lifestyle sites including NOTCOT.com and innovative curated user submission sites: NOTCOT.org + NotCouture.com + Liqurious.com." Visit NOTCOT on Facebook or Twitter: @NOTCOT and @NOTCOTorg and @NotCouture.
Apartment Therapy: "Apartment Therapy is a website whose mission is 'Helping people make their homes more beautiful, organized and healthy by connecting them to a wealth of resources, ideas and community online.'" Visit Apartment Therapy on Facebook or follow them on Twitter: @ATColor.
Cool Hunting: "Cool Hunting is a daily update on ideas and products in the intersection of art, design, culture and technology, and features weekly videos that get an inside look at the people who create them." Cool Hunting's Facebook page and Twitter: @coolhunting.
Design Glut: "We interview people who start things, who follow their dreams, who live life passionately and on their own terms. Then we type the interviews and post them here. The conversations are incredibly inspiring to us – we hope you find the same." Follow these passionate design ladies on Twitter: @designglut and come to their awesome Uncomfortable Conversations show — May 15-18, 2010, 10am – 6pm, 803 Washington St., New York, NY.
Design Milk: "Design Milk is an online magazine dedicated to modern design. Our goal is to bring you what's fresh and new in art, architecture, interior design, furniture and decor, fashion, and technology." Follow us on Facebook and Twitter: @designmilk.
MoCoLoco: "MoCoLoco is a web magazine dedicated to everything related to modern contemporary design and architecture, including; residential architecture, interior design, furniture, accessories, lighting, floorcoverings, wallcoverings, books, websites, audio-video, online & retail stores and more." Get more MoCo on Facebook and Twitter: @mocoloco.
Sub-Studio: "The Sub-Studio Design Blog is a compilation of products, furniture, jewelry, architecture and artists that float our boat." Follow Sub-Studio on Twitter: @Substudio.
The World's Best Ever: "The World's Best Ever is an Arts & Culture webzine founded in December of 2006. We update around 20 times a day, five days a week and are dedicated to bringing our readers a heavily curated selection of information." Follow The World's Best Ever on Facebook and Twitter: @worldsbestever.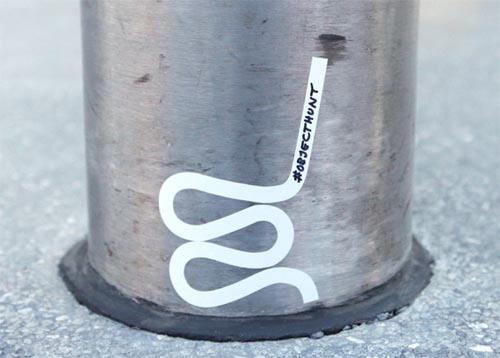 The Legal Stuff
To enter the contest, post an image of a found ObjectHunt sticker through Twitter with the hashtag #ObjectHunt included in the tweet. Multiple entries are permitted, with a different found sticker for every entry. Dates of entry: May 13-18, 2010. The contest closes Wednesday May 19 12:00am Eastern Standard Time. One winner will be selected at random. Prize redemption is based upon availability and expires December 31, 2010. The prize is non-transferable and only valid for redemption by the owner of chosen Twitter account. Travel expenses to and from the hotel are not included.
Now, go forth and hunt for stickers!

Design From Around The Web