INNESS: A Country Getaway That's Between Cultivated and Wild
INNESS: A Country Getaway That's Between Cultivated and Wild
1/18 Photos
2/18 Photos
3/18 Photos
4/18 Photos
5/18 Photos
6/18 Photos
7/18 Photos
8/18 Photos
9/18 Photos
10/18 Photos
11/18 Photos
12/18 Photos
13/18 Photos
14/18 Photos
15/18 Photos
16/18 Photos
17/18 Photos
18/18 Photos
INNESS is a boutique country refuge located in Accord, New York, designed by Post Company in partnership with restaurateur and trained architect Taavo Somer, development team Michael Barry, CBSK Ironstate, and Lee Pollock. Named after renowned American landscape painter George Inness, the retreat was brought to life by the aforementioned group of designers and developers.
The 225-acre property features 40 hotel rooms distributed between a 12-room farmhouse and 28 cabins. Amenities include a restaurant and lounge, a 9-hole golf course by King Collins, a sports outfitter, swimming pools, tennis courts, hiking trails, an events barn, a farm shop, and a 3-acre organic farm designed by landscape architect Miranda Brooks. Slated for 2023, the wellness building will offer a spa, gym, and spaces for movement classes and yoga.
The property's central theme revolves around the contrast between the cultivated and the wild. The grounds are anchored by social hubs designed for both aesthetic appeal and communal function, while also offering ample space for exploration and discovery. Inspired by the region's Colonial Dutch architecture, the buildings showcase a minimalist design that highlights the picturesque landscape. Rustic details and an emphasis on local materials unify the structures, which are further enhanced by Miranda Brooks' carefully balanced landscaping that seamlessly blends wild growth with manicured elegance.
The farmhouse serves as a central hub, featuring a communal lobby bar, guest kitchen by Plain English, library room, and game room. A coffee service and continental breakfast are available for guests and members throughout the week. The farmhouse rooms offer mountain views, modern amenities, and are furnished with a mix of vintage and custom furniture – including pieces by Sixpenny – artwork, and wares to create a cozy, lived-in atmosphere.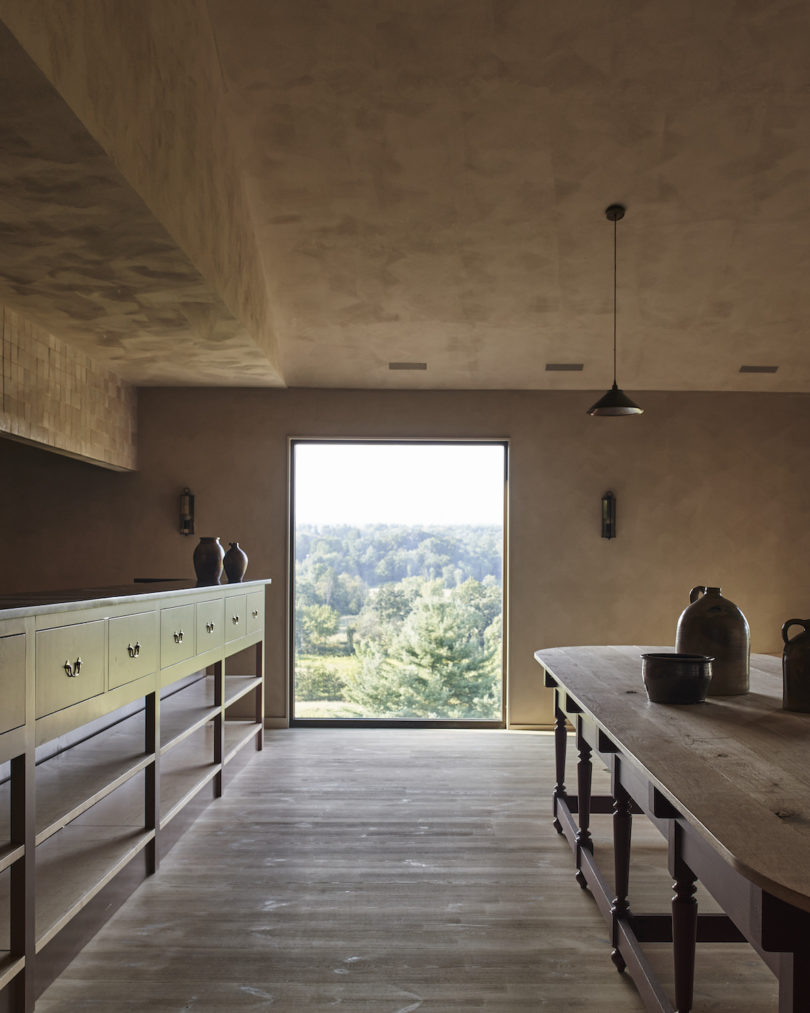 Photos by Adrian Gaut.