Stockholm-based designers Färg & Blanche curated and designed Inside Scandinavian Design, an exhibition focusing on Scandinavian design and the work and values behind it. In the development of the exhibition, they posed themselves the questions, "What does it mean to work in the furniture industry in Scandinavia today? To design, develop, and produce a piece of furniture? What role does innovation, craftsmanship, and the often close proximity to local production play? And how is the landscape of production changing, with the ever-increasing emphasis on environmental issues?" The result was one of the highlights of the 2015 Stockholm Furniture Fair, an exhibition following products from concept to implementation.
As well as posing questions to themselves, they asked five non-Scandinavian designers for an outsider's perspective, and dedicated part of the exhibition to their response on each of the five days of the show. On the day I visited, Ilse Crawford had chosen two pieces of furniture that she felt represented Scandinavian design. She chose a vintage Red Chair by Kaare Klint (above) explaining "It's important we use a vintage one because they improve with age. We used them in the library at Ett Hem – they are practical, robust, and so elegant too. It is not flashy or spectacular but a beautiful, simple, useful solution to sitting that can fit anywhere," and Yrjo Kukkapuro's Karuselli lounge chair for Artek (below), saying, "This is a beautiful monster of a chair. Sitting in it is like being hugged. It fits the body so perfectly – not surprisingly perhaps because it was inspired by the shape of Kukkapuro's body in the fresh Finnish snow. A perfect example of nature and comfort coming together in furniture."
In answer to the other question Farg & Blanche posed, "What does Scandinavian design mean to you?" Crawford said, "Scandinavian design is of course many things and each country has its own design language. The qualities that we value overall in Scandinavian design are a sensitive approach to materials and a rigorous approach to function. Nature – be it in spirit or material – is prized. Practicality of use and longevity of life are taken seriously. Good Scandinavian design (that has lasted) almost always takes human life and our ways of living as its starting point."
The Fiber chair, designed by Copenhagen design studio Iskos-Berlin, is the result of an approach Muuto CEO Kristian Byrge explains as follows, "We are always trying to find new perspectives in the way we do things and this includes finding new materials and more sustainable options."
It launched in 2014, after two years of research and development and looks at first glance like a typical injection-molded plastic chair, but it is actually made of a biocomposite that includes 25% wood fibers sourced from a sustainable Swedish pine forest. This affects the final feel, giving it a warm texture. And once it reaches the end of its lifespan, it can be remolded into another Fiber Chair, with the addition of less than 1% new material.
The exhibition curators couldn't resist including a piece of their own work, and who could blame them? Emma was launched at the Stockholm Furniture Fair in 2013 – an update on the 1840 classic Emma armchair made using a completely new manufacturing technique combining industrial production with craftsmanship. "We call it extreme sewing," said the designers. The needlework goes right through the armchair's textile back, eliminating upholstered furniture's traditional hardwood structure.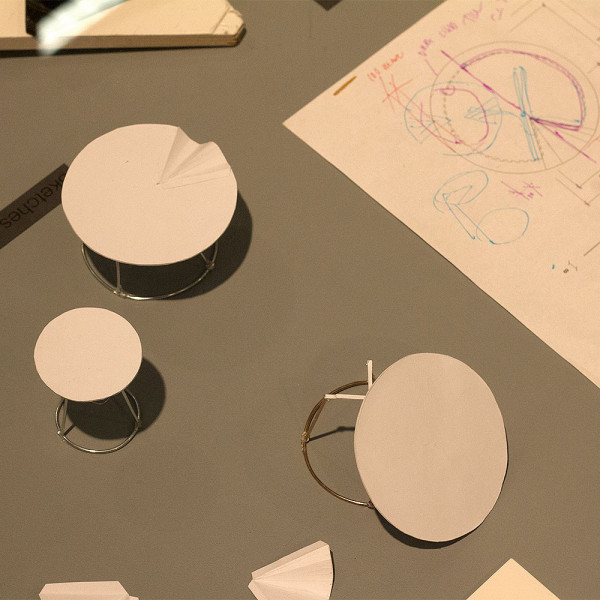 Monica Förster's Breeze table for Swedese looks at first like a typical understated Scandinavian product, but then you notice the irregularity – a wave in the surface. "It's a detail completely devoid of function, but it adds magic," said Swedese managing director Peter Jiseborn. "And if you know laminating technology, you know that it's impossible to bend a detail into a table without the rest being affected."
The wave is in fact manufactured separately, and embossed into an existing table surface that is either copper or lacquered in white or black, harking back to the idea on which the company was founded – to create advanced, expressive furniture that is uncopyable.
"The best innovations and developments are the ones which are invisible, as if they have always been," said Khodi Feiz, designer of the Palma chair for Offecct. Palma was launched in 2008 after two years in development. Its form, the shape of a cupped hand, is created with a molded-birch veneer frame and seamless upholstery.
But at the same time as being cupped, the shell also offers back support with a double-sided curve, provided by an insert in the molding. It is the first shell of its kind. Offecct has five product developers working full-time in Tibro, a small town with a long tradition of furniture production. "A product developer has to make the impossible possible," says design manager Anders Englund.
The XL December chair was designed as part of the 12 Designs for Nature project during Helsinki World Design Capital in 2012. Nikari invited 12 designers to collaborate with its cabinet makers and launch a new product every month. In December it was the turn of Jasper Morrison and Wataru Kumano. Their original idea was to create a flat-packed chair, but it proved too difficult to store the various parts made of a living material such as wood without distortion due to temperature changes.
The Dent chair by designers o4i was launched at the Stockholm Furniture Fair in 2013. It is traditionally compression-molded and veneered but with a three-dimensional seat, making the chair look as if it's made from crumpled paper. The biggest challenge, previously thought impossible, was making a three-dimensional form from a traditional veneer. o4i's Henrik Kjellberg and Jon Lindström contacted Blå Station when they realized they had worked out how it could be done. It took eight test stools to prove it – thankfully Blå Station refused to give up.
If the public understands why a product looks the way it does or why it was made, "then a wrinkled chair ceases to be just a wrinkled chair," said Blå Station founder and design manager Johan Lindau. "Dent is not just a chair, it opens up new possibilities for a traditional material. It will be a sales success of the future, it's a milestone in shell-chair history and will never become a has-been – we just know this."
And in keeping with the exhibition, Färg & Blanche showed their making process too. "We wanted to make a spectacular structure surrounding the exhibition and embracing the viewer, at the same time as keeping the fair outside clearly visible," they said. It is made of 160 wooden bends of molded birch veneer. The leather squares were all created by hand in the Färg & Blanche studio. "In a way the structure is a tribute to the Scandinavian furniture industry, using pressed birch but in our own way."