To kick off NYCxDesign 2016, we are headed to BKLYN Designs May 6-8th at the Brooklyn Expo Center. BKLYN Designs, which was founded by the Brooklyn Chamber of Commerce, is the first show to feature designers from Brooklyn, and with its relaunch last year, we saw that it's not a show you want to miss.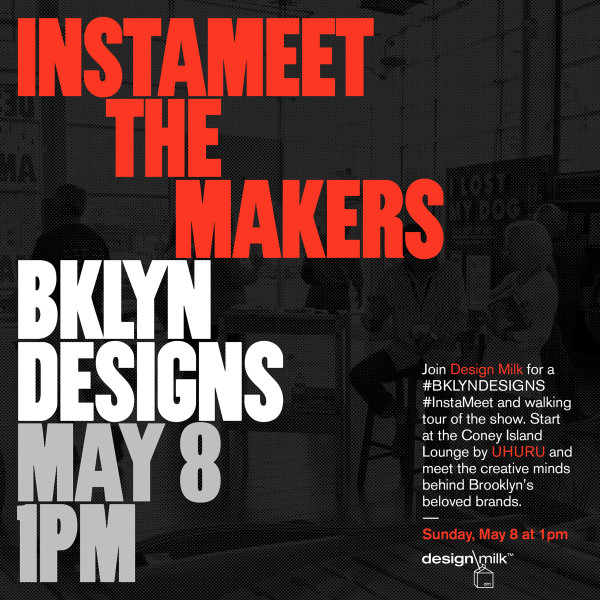 First of all, we will be hosting an exciting event – InstaMeet the Makers, on Sunday, May 8 @ 1PM. Join our Managing Editor, Caroline Williamson for an Instagrammable tour through the show. Start at the Uhuru Coney Island Lounge and meet the creative minds behind Brooklyn's beloved brands. If you're not at the show, you can still follow along using hashtags #BKLYNDESIGNS + #InstaMeet.
Designers include seasoned brands like Think Fabricate and Mark Jupiter, and even design brands that are launching at the show, so you're sure to see a wide range of products. Cam Crockford Design, Catalor Design, earthly and POPA, will all be launching their design brands at the show so you're guaranteed to see stuff you've never seen before. From artistic fabrics to heirloom furniture to lightbulbs to sustainable and ethical fashion and even Memphis-inspired furnishings, there's something for everyone. Pratt will also be showing student work.
Another exciting highlight of the show, and probably our favorite, is BKLYN BUYS, a curated marketplace so you can take home a souvenir (or in our case, most likely multiple souvenirs) from the show. Pick up jewelry, housewares, ceramics, and other accessories from local talent and students.
Another highlight that we are looking forward to are the site-specific installations, including: a 500-square-foot Micro Loft concept space designed and furnished by AphroChic featuring cutting-edge kitchen appliances from AJ Madison, transformable furniture from Resource Furniture, and smart home technology from Con Edison. Wow! There will also be a maker lab with workshops, a playful lounge by our friends danielmoyerdesign + Tattly, plus caribBEING House – a unique, mobile, and multi-purpose art/cultural space housed in a shipping container. These attractions alone are worth a visit!
The show is free for trade, so really, it's a no brainer!!! If you're not trade, don't fret! We have a promo for $5 off your tickets – just use code DESIGNMILK5. Register here.

Design From Around The Web