Canada's first pod hotel, the Pangea Pod, takes a page from Japanese hospitality. On a scenic mountain village with sprawling views of snow-capped tops, where countless resorts and hospitality chains have established luxury mountain lodges, one building stood out: a 1970s time-share apartment in dire need of an uplift. The lead designers at Canada's Bricault Design—Marc Bricault, Shamus Sachs and Daria Sheina—decided to renovate the building but keep it distinct from its upscale and expensive neighbors by turning it into a utilitarian chic, 88-pod hotel in Whistler, British Columbia.
Pod hotels were traditionally a product of convenience geared towards busy workers who needed an inexpensive and quick night's rest close to their work quarters. So while the pods don't naturally conjure up an image of restful vacation, their financial and spatial practicality was a concept that Bricault wanted to bring to Whistler, a town where mountain resort living often comes with a hefty price tag.
The pod hotel merges mountain living with modern convenience, something that Whistler's many neighbors and friends can learn from. Pangea is just steps away from the resort's chairlift stations and has a prime, almost unmissable spot, in Whistler's pedestrian village. With such prime real estate, "every centimeter counts," said Daria Sheina. The private pods have to be carefully designed within a tight layout.
Bricault transformed the common time-share entrance into an open and inviting hotel and bar entrance to give the property a clear and commanding presence within the village, enticing visitors—with edgy imagery that is surprising in this part of town—that there is something exciting upstairs to be discovered.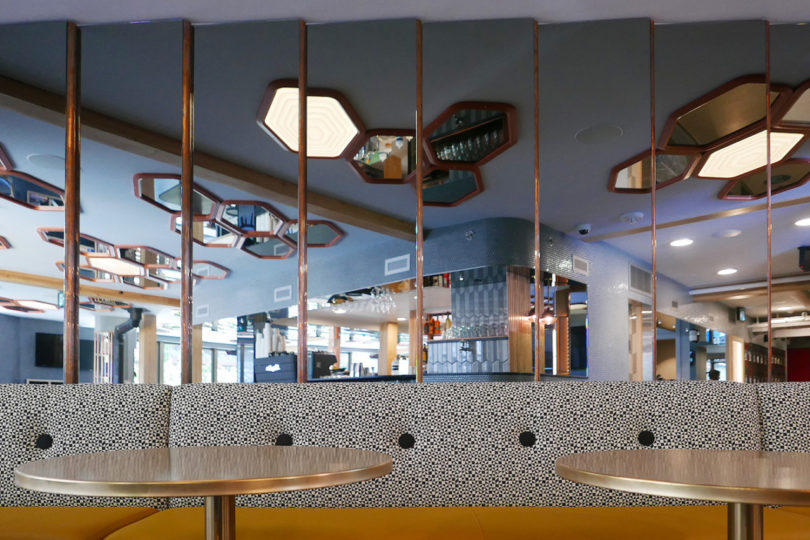 What: Pangea Pod
Where: 4333 Sunrise Alley, Whistler, BC V8E 1M7, Canada
How much? Room prices start at USD $59
Design draw: The pod hotel concept, in an upscale ski village, reimagines what a mountainous vacation can look like and cost.
Book it: Visit Pangea Pod