Jiwoong Joong's gradient face timepiece Hidden Time is the striking opening act in "The Trio of Time" series, a graphical magic act designed to make time seemingly disappear with the slow sweep of every passing hour, the spearhead of an evolving collaborative effort unveiled between global designers and Hong Kong based Anicorn Watches.
When designing the watch, I was thinking about how to naturally hide passing time. My research began with how hiding occurs in nature, which led me to one of the best known examples––the chameleon's protective color. Their defense mechanism is a kind of optical illusion, but a simple and effective way to have two things together naturally when superimposed. – Jiwoong Jung
A clever take on the watch, the Seoul-based industrial designer utilizes an artful use of white-on-white circular UV-printed graphic gradient to deceive the eye into perceiving the passing of time – a metaphorical expression of the hours passing throughout the day that forgoes the secondary hour hand completely. The darkest sections of Hidden Time represent the hours passed, the lighter areas the hours ahead, with the demarcating line between each representing the actual hour at hand.
The solution aligns with Anicorn's past catalog of timepieces, many with a similar "less is more" aesthetics and circular motif – most specifically their Series 000, a watch outfitted with a similar obfuscating element that hides a third of the watch face with a concentric disc system.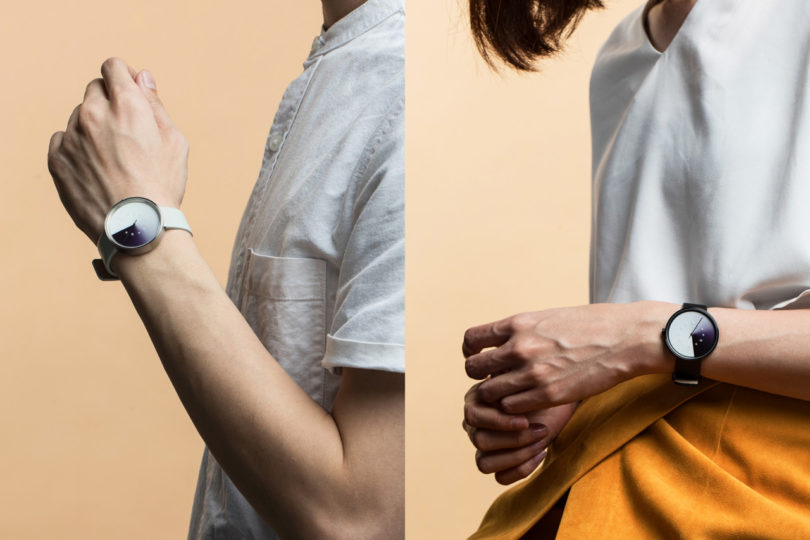 A unisex design, the Hidden Time will be available in black, rose gold, and white, with a 39mm machined stainless steel case on the outside, a Swiss Ronda Caliber 515 Quartz movement operating within. An interchangeable leather strap system allows for simple strap change out, available in white, coffee, or midnight.
The Hidden Time watch is currently available on Kickstarter for pre-order at a quite reasonable $154, shipping this October.