Normann Copenhagen has re-introduced the Krenit bowl, designed in 1953 by Herbert Krenchel, a civil engineer. The launch comes after the designer approached Normann Copenhagen founders Poul Madsen and Jan Andersen about resuming production, which ceased in 1966 when enamel fell from favor and competent factories shut down.
Herbert Krenchel says this about his design: "In 1953 the idea was to make a beautiful bowl, preferably so functional and delicate that it was equally suited for use in the kitchen, on the dining table and as a decoration in the sitting room. As a material researcher I really concentrated on getting the different materials to  look good together as well as making them equally compatible to use together."
Originally manufactured with an enamel interior in eight colors and nine sizes, the Krenit is now produced in steel with a melamine interior in five colors: white, black, turquoise, purple, lime and red.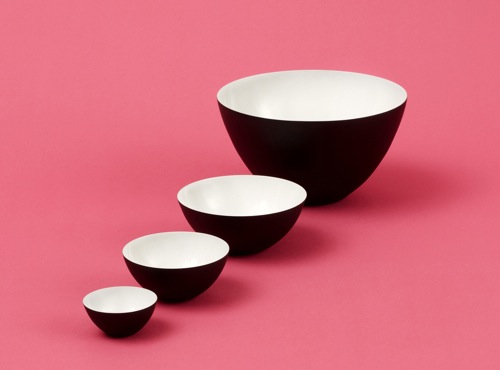 An old photograph of the Krenit bowl in the cafe of the Louisiana Museum of Modern Art in Copenhagen.
An old photo of an original serving and salad bowl set.

Design From Around The Web