For the London Design Festival, award-winning architects Amanda Levete Architects (AL_A) and engineering firm Arup have simultaneously framed and opened up the Cromwell Road entrance to the V&A. The installation is incredibly successful; perhaps surprisingly so, given its simplicity.
Three stories high and 12 meters in diameter, the wave is made of oil-treated American red oak, using laminating techniques traditionally used in furniture making. Its three-dimensional latticework spiral draws you into it… and then into the V&A.
The brief was to respond in some way to the entrance. The recurring structures in the Timber Wave echo the repeated motifs used the design of the entrance. But its asymmetric form brings this approach up-to-date and opens the entrance up to the Cromwell Road and beyond.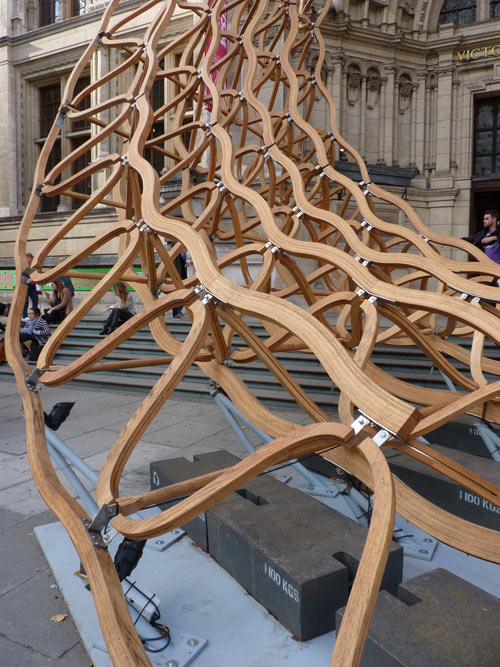 AL_A also recently won the V&A competition to design a new courtyard and underground extension. The London Design Festival runs from September 17-25, 2011.
Katie Treggiden is covering the London Design Festival for Design Milk. Katie writes confessions of a design geek, winner of mydeco's "Best Interior Design Blog in Great Britain" and has just released her first book Interviews, a collection of 18 interviews with designers.

Design From Around The Web