The Shoreditch Design Triangle is one of the London Design Festival's more established design districts and this year was absolutely buzzing with creativity and inspiration. Described by its organizers as "a cultural event that celebrates the creative industry in East London," it is active during LDF, but also at other key times throughout the year.
One of the stars of the show this year was London-based designer, Yinka Ilori, who specializes in up-cycling vintage furniture, inspired by the traditional Nigerian parables and Dutch wax fabrics that are part of his family's heritage.
He had two projects in the Shoreditch Design Triangle – one was Estate Playground outside citizenM Shoreditch inspired by the playground on the North London housing estate on which he grew up. He described it as a symbol of "freedom, adventure and friendship" and hoped his new iteration, comprising a swing, a slide and a round-about, would encourage visitors to stop and play, perhaps recapturing some of their own childhood. "Yinka Ilori is a passionate believer in the power of the community to unite, celebrate and bring out the very best in people, whatever their race, culture or beliefs," said a statement from citizenM. "Like Yinka, we also believe in the power of the people, and commissioned him to create an installation at the entrance of citizenM Shoreditch embodying this message." Ilori is looking for a local school to donate the playground to after the festival.
His second project was a collaboration with Restoration Station, a social enterprise that trains people in recovery from addiction to restore furniture in order to give them new skills, while also providing a metaphor for their own transformation. "The volunteers each selected an item of furniture from the donated pieces and used color as a catalyst to tell their stories," explains Ilori. "The workshops didn't follow a set format: I like the making process to be as organic as possible. Any 'mistakes' made in the process could end up being the most powerful part of their narrative." The resulting 10 chairs were auctioned to raise money to support Restoration Station's continued work of helping people to find a path back to recovery, society and self-worth."
Meanwhile a series of talks at lifestyle shop W.A. Green aimed to raise the profile of women in creative industries. Entitled Women Making Waves in Design, the program included speakers such as Grace Souky and Giannina Capitani.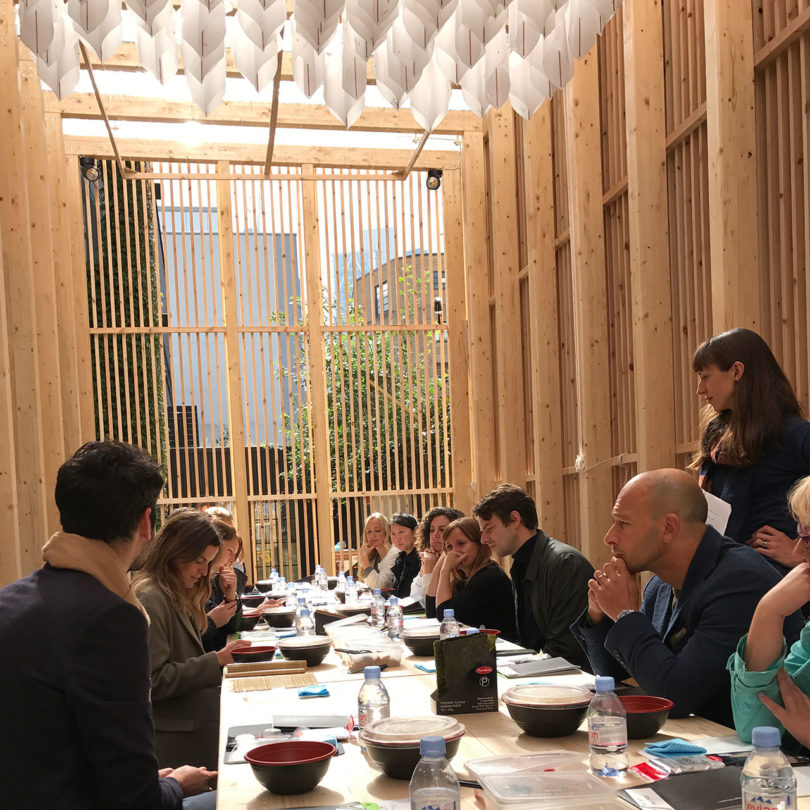 Architecture practice Universal Design Studio collaborated with The Office Group to create this pop-up inside-outside space (with a thankfully water-tight roof!) in which to explore the meditative properties of repetitive activities. We joined them for a sushi making workshop.
Pulpo's pop-up was a treat for all the senses if only for the wall-to-wall carpet! The German company collaborates with leading designers and European manufacturers to create high-end design products for the home. Both collections pictured above are by Sebastian Herkner. "There is a sensitivity and identity to my work that emphasizes the function, the material and the detail," he says. "I transport and interpret characteristics from various contexts of society and culture and implement them in new artifacts."
'Future living lab' SPACE10 hosted a pop-up to explore "the consequences of urbanization and the spaces we inhabit." Events included a collaboration with FranklinTill, a London-based design house and trend-forecasting agency, established by Kate Franklin and Caroline Till in 2010, and a cafe with its own micro-garden growing herbs and vegetables for use throughout the event.
Ready, Made, Go at the Ace Hotel is going from strength to strength and fast becoming a stalwart of the London Design Festival. Curated by Modern Design Review editor Laura Houseley, the premise is that the Ace give her a list of things they genuinely need for the hotel and only the budget they would spend buying them off-the-shelf, and she finds London-based designers to design, prototype and make them from scratch. The result is not only a fascinating exhibition for LDF, but one with longevity and relevance long after the show is over. The salt and pepper shakers above are by Oscar Diaz.
And last but not least, we couldn't write a round-up of the Shoreditch Design Triangle without stretching the boundaries slightly to include the fabulous Villa Walala by Camille Walala, pictured here with her art director and creative producer Julia Jomaa, which we've written about in more detail here.