In the age of Instagram, there is no shortage of beautiful, highly photogenic products disrupting every industry possible: glasses, luggage, vitamins, razors, mattresses, pet food, toothbrushes, alcohol – the list goes on and on in the direct-to-consumer world. But the end users of that system, the consumers, are catching on. All that shines isn't always gold, and Instagrammable aesthetics don't always equate to longevity or improved functionality. The former definitely doesn't trump the latter no matter how good-looking your product is. If it doesn't perform, the aesthetics are a moot point.
So when Food52 set out to launch their new Five Two Essential Cookware, they knew to do better. Instead of focusing on selling a product to their community, they reached out to it to gather feedback and points of view on what was important to the everyday cook, not the Michelin-star chef or the YouTube cooking guru. The cookware line is very impressive beyond its clean, minimalist design. Features like tri-ply stainless steel, glass lids with built-in colanders, interior measurement markers, anti-yellowing technology, rivetless design, non-slip and stay-cool handles, and advanced non-toxic nonstick materials were all carefully considered that Essential Cookware really lives up to its name.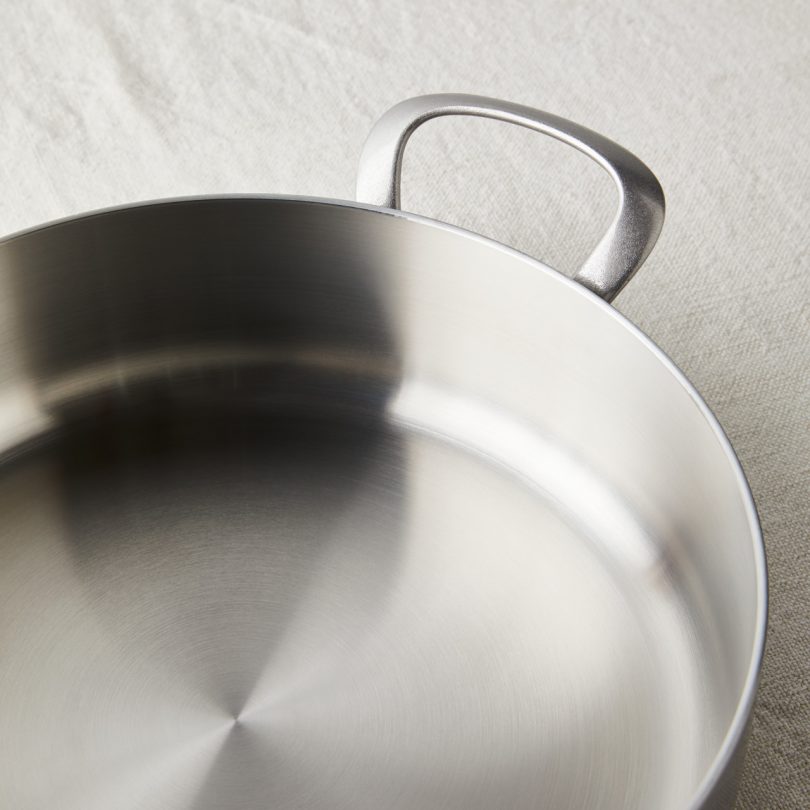 We wanted to know more about Food52's design process and the thinking behind the Five Two Essential Cookware so we chatted with Kristina Wasserman, Director of Five Two, to get the inside scoop.
What makes cookware good?
This is different for every cook – some people value easy-cleaning above all else; some durability, heat retention, even-heating, comfortable handles, weight, or price, etc. We know this. We know cookware (or really any functional tool), is extremely personal and needs to function well.
Our goal with our Five Two line was to bring as many of these values together as possible. It may seem simple, but it's actually not that common for a cohesive collection to hit on a wide range of benefits – you often have to compromise.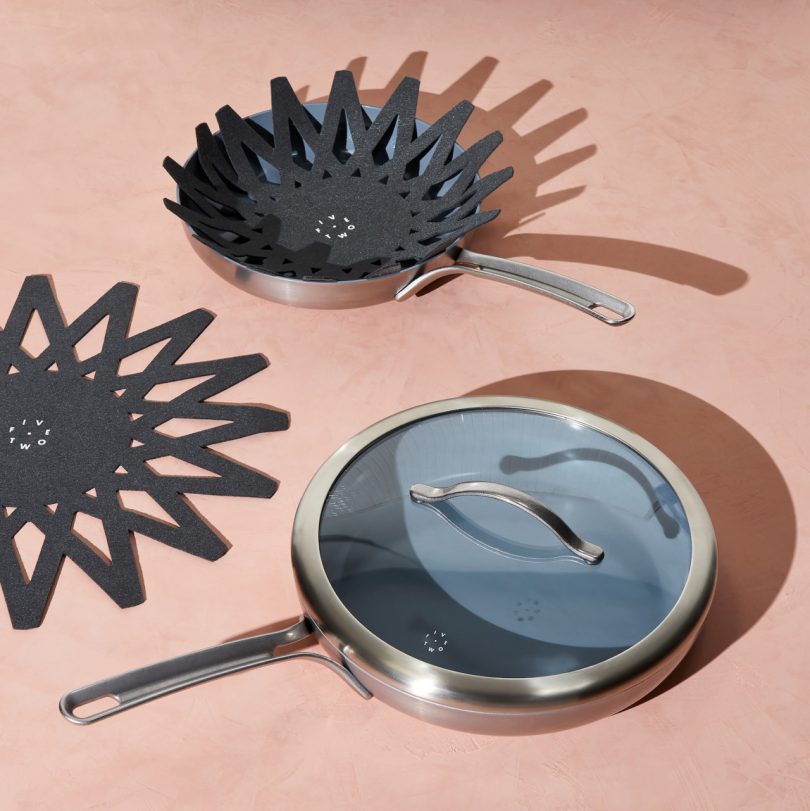 What makes it even better (and why)?
Beyond the features that make an actual difference in your cooking (thicker/stable bases, nontoxic ceramic nonstick with superior browning capabilities) or making something more pleasing to the eye/easier to use (ergonomic/stay-cool handles, glass lids for easy viewing, measurement markers, straining lids), longevity is an often overlooked priority.
For example, more than 70% of the cookware market in the US is nonstick cookware. And you'll see that many direct-to-consumer brands out there know this and are leaning into that sales potential. We see those kinds of sales on our own site, but purposefully chose to make and put our name on something we know wouldn't max out its lifespan at five years (which is the case with any nonstick, no matter what quality it is). Nonstick is a great tool, but shouldn't be your entire arsenal. We have nonstick skillets as a tool for those that want it (and most do!), but our overall Five Two Collection is rooted in the stainless steel pieces. They are extremely heavy duty and built to last. Good design that doesn't last simply isn't great design. I also believe this applies to aesthetics. An Instagram-worthy design may be cute in this moment, but will it fit into lifestyles 10 years from now? Was the aesthetic valued above the function in its design process? This is something I think a lot about. You need a great or eye-catching aesthetic, but it can't cost you functionality or longevity or be the only thing you offer your consumer.
What role does research and design play in that?
Research plays a HUGE role in all design. This is something that I talk about constantly, and push myself and my team in on a daily basis. The entire design process is more complicated and riddled with changes in direction if you don't come into it with a clear strategy and vision. A strong POV is only strengthened through research and a deep knowledge of the materials and categories you are working within. Understanding what's out there, what's been done before, and at what price, even if totally different than your concept, brings strength to that. At Food52, we added community feedback to our research, so not only did we know our category deeply, but we knew our consumer's desires and were inspired by their ideas.
In regards to cookware, I feel lucky to have been a buyer focused in this category for about eight years. It's a category I've toiled over much of my career. When I develop in other categories, especially outside of the kitchen, my research is all that more important. You have to have a deep knowledge of every product, which takes time to develop. Luckily, it's also one of the most fun parts about the development and design process.
Learn more and shop the new Food52 Essential Cookware collection here.
Photos by Rocky Luten.

Design From Around The Web