Architect Chet Callahan did a complete renovation on a hillside, Spanish Colonial home in Los Feliz, California for himself and his young family. When it came to the interior details, he brought on Ghislaine Viñas Interior Design to help turn the 1934 renovated house into a modernist's dream.
The house was already filled with lots of unique details and plenty of white. The only thing missing was color. Inspired by color blocking, they brought bold, graphic elements throughout giving the home plenty of eye-catching focal points. In the living room on the massive white shelves, they sorted the books by color. This always makes me super happy when I see it!
The living room was treated to a long chesterfield sofa and Jaime Hayon chairs and coffee table, all in a plum-purple color. Paige West, of New York City's Mixed Greens Gallery, helped the couple curate a collection of colorful art you'll see around the home.
The all-white kitchen is paired with colorful yellow elements, like the dining chairs and the rug. A blue-green, branch-like chandelier hangs above the white dining table.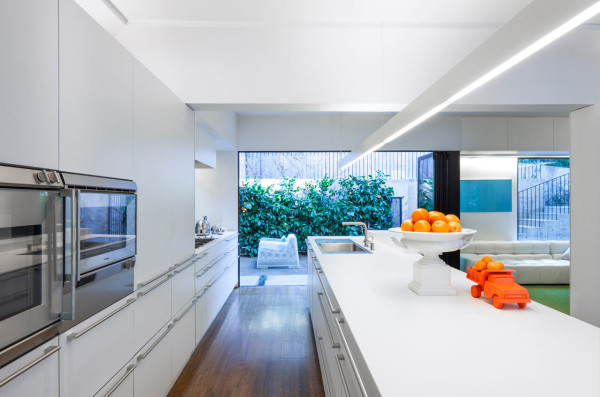 The master bedroom wasn't left out – it got a massive band of striking pink that wraps around the room from the floor to the walls to the ceiling. The rest of the room remains all white.
The hallway runners give you a clue as to what color takes the stage in the room you're about to enter.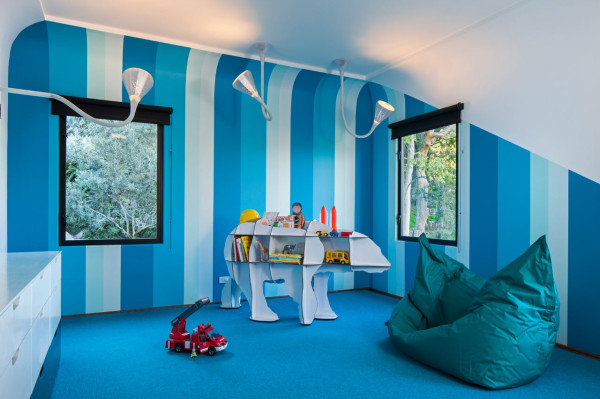 Vertical blue stripes are the theme of one of the children's rooms…
While horizontal orange stripes cover the other.
Photos by Art Grey.