We spoke with Nicholas Brungo of Love Bikes, an independent repair and bike shop in Pittsburgh, which started out of a Lawrenceville garage just a few years ago. Built out of love and passion, Nicholas' small restoration service organically grew into something large enough to open a colorful storefront featuring modern bikes and designs from the '70s and '80s. We talked to him about his approach to growth, the bike culture in Pittsburgh, and being a small shop owner in a big city.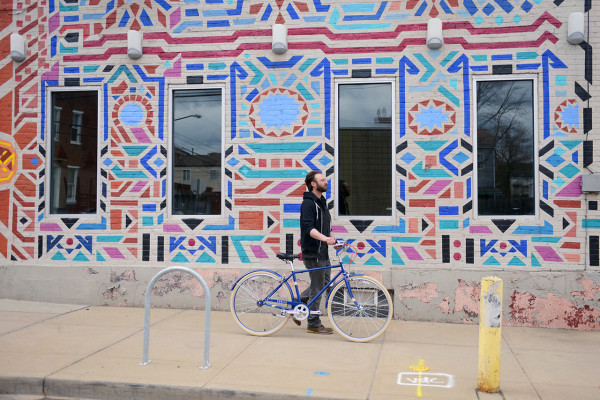 Tell me a little bit about the history of Love Bikes.
I opened in a back street alley garage in the spring of 2011. At the time Lawrenceville didn't have a bike shop so I wanted to provide the neighborhood with a place for repairs and parts. At the time of my opening, I wasn't selling any new bikes or much at all actually. I had the essentials to help out the stranded commuter and would restore the occasional bike, but that was about it. The neighborhood really embraced me though and in the spring and summer I'd put a tent up in the alley for a little shade and people would hang out there now and again. My friends and I also put on some pretty fun shop parties that kind of spilled into the alley.
How did you decide on the name Love Bikes?
The name of the shop is supposed to portray the sort of informality of the shop. I don't expect people to know the proper terminology. I don't mind a lot of questions. I don't care what quality or state your bike is in. I like fixing and building bikes and it makes me happy to help people. I thought the name might portray that feeling of being welcome.
You carry some great modern design brands like Public and Detroit—what is most appealing to the majority of your customers?
The majority of my customers are for sure attracted to the Public and Detroit brands. Most of my clients like the look of European bikes from the '70s and '80s. Those brands are able to offer a similar aesthetic, but with new parts and modern design.
What is appealing to you about bike restoration? How did you get into it?
The most appealing thing to me about bike restoration is the problem solving aspect. Inevitably, during any restoration, or repair for that matter, there are snags and finding the solutions is what I enjoy most. Getting into restoring bicycles really just made sense. As a mechanic and an artist, I felt like I had a pretty good skill set for such a thing, so I gave it a try.
You have some really creative artwork on your website and around your shop – are those done by you or local artists? What kind of vibe did you set out to create with your shop?
The mural that's featured on the homepage of the website was a piece I commissioned last fall. Two local artists named Matt Gondek and Brian Gonnella took a list of cartoon and video game characters written up by my wife and I, and then made the piece. The other artwork in the shop is from several years ago. I made them while painting and exhibiting work both here and in New York. I really didn't have a vibe in mind when I started to set up the shop. Things just kind of came together little by little. It's certainly not done by any means. I'll continue to add and change things as time goes on.
Who is doing innovative stuff in the bike industry right now?
It's hard to say who is doing innovative things in the industry when I'm really nowhere close to the tip of that spear. I get more excited about little innovations in accessories and the like. MonkeyLectric is doing some really cool stuff with their wheel lights as far as that kind of product goes. I think they're they best in the business. An American saddle company called Selle Anatomica is doing some really nice work to try to become a competitor to Brooks. Their handmade leather saddles require zero break-in time and don't need treatment very often.
What is the bike culture like in Pittsburgh? What's your perspective on the current bike industry/culture in general?
The bike culture in Pittsburgh is great. It's certainly made strides since I moved home in 2005. I like the resurgence of the classically styled bike in the bicycle industry. It felt like for a while there that function was all that mattered and form had taken a back seat. One of the great things about bicycles is their aesthetic, and I'm glad to see that become more prevalent in affordable bicycles.
What kind of innovations would you like to see in the cycling industry in the future?
As innovative materials and technologies become more and more affordable I'd love to see them make their way into the vintage styled bicycle design. Norton Motorcycles does this with their Commando bike line. Actually there's a company called Shinola that is on the verge of this—employing meticulous hand crafted frame construction on a vintage styled bicycle. I would love some day to see carbon and titanium incorporated into such a thing.
Do you have any advice to other small business owners and startups?
The only advice I would have for other small business owners or startups is that when you start a small business, there are going to be a lot of things you just plain don't know about and a lot of red tape that can make things seem arduous and sometimes not worth the effort. My advice is don't deliberate too much on such things. There will be a ton of mistakes made along the way and with each one you'll hopefully learn a lesson. Do whatever it takes to get up and running and then deal with remaining issues and problems in due time. Before you can be successful, you have act and feel as though you're successful. I think this is a concept that most people are fairly familiar with, but when opening a small business putting it into practice can be hard. I suppose there's a level of ignorance that might even benefit startups. At least, that's what I've found.
Read the rest of the posts in this series here.
This post is promoted by American Express – committed to connecting small merchants to more customers through the Shop Small® movement. Are you a small business owner? Learn about the value of accepting American Express® Cards here.
Photos by Quelcy Kogel.