Designed by ABIBOO Architecture, House H clocks in at just over 16,000 square feet spread out over a unique floor plan. The client, an international sportsman, required a broad range of functions and the result is a house that looks like a geometric sculpture in Madrid, Spain.
The ground floor was designed to integrate with the land by way of various patios that give the illusion of a larger house. The first floor has an office, guest rooms, and a play area. The basement features meditation rooms, a gym, a spa, an indoor and an outdoor pool, as well as party areas and lounges.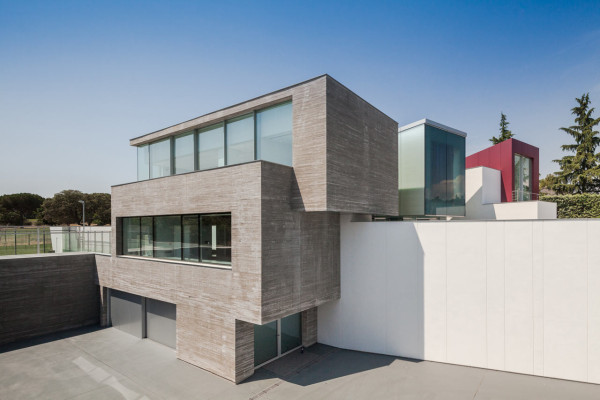 The design appears to be a series of boxes, some that are stacked askew, made more clear by the materials on the façade. The secondary areas are clad in exposed concrete, the daytime spaces in the center in stucco and glass, and the night areas have a metallic ventilated façade (red), creating a dynamic exterior look from any vantage point.
The project focused on using eco-friendly materials and design practices as a way to show their commitment to the environment. They incorporated natural ventilation strategies and water saving solutions, along with solar panels, and geothermal heat pumps to reduce CO2 consumption.
Floor-to-ceiling sliding glass doors on both sides of the basement open to create indoor/outdoor relaxation spaces.
Photos by Joao Morgado.

Design From Around The Web