Frustration can be a surprisingly effective motivator. Ian and Eva Goicochea, Grant Wenzlau and Celina Pereira all could not find a watch which appealed to their design sensibilities for modern simplicity at an attainable price. The ideal watch in their minds was one where the quality of materials spoke as confidently as the form factor itself, a timepiece comfortably worn on any occasion, and outfitted with a time keeping mechanism on par with more expensive models. So instead of continuing their perpetual hunt for the perfect watch, the quartet of Los Angeles friends put their minds together and set out to design their own solution. Tinker Watches recently launched with a tasteful selection of materials, sizes, and finishes carefully curated for a customized aesthetic that met their criteria for attainable high design.
Tinker co-founder Ian Goicochea spoke to us about becoming a first time watch designer, sharing the challenges and process behind Tinker:
What inspired you to launch Tinker?
While we pulled from a number of design influences, we primarily referenced a few Soviet-era Russian timepieces and the mid-century IBM wall clock when designing the face. As for the case, we wanted something that was classic with a bit of an updated modern twist—more on that in a minute. Outside of design, we played the amazing Saul Bass opening title sequence from The Man with the Golden Arm, and knew that we wanted to capture that same spirit with the finished design and website.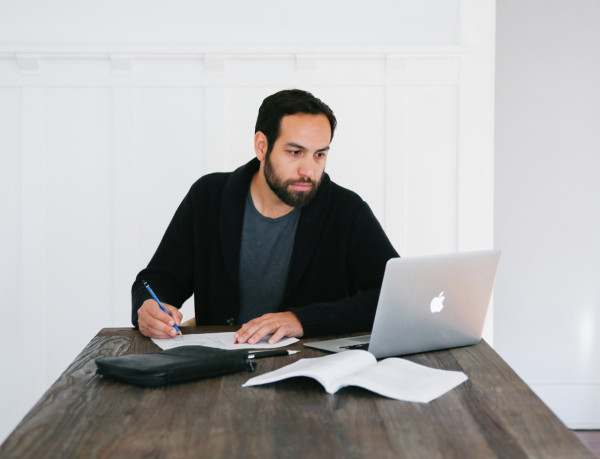 It seems almost daunting of an idea to set out to design your own watch without a background in horology. What was the design process like starting literally from scratch?
We learned how important it is to have the general map of what you are trying to design to guide you—in our case we wanted the watch to feel every day, pared-down and unisex. This led us to the three sizes approach and limited our largest size to a relatively modest (these days) 42mm diameter. We knew that we wanted something that would allow people to tinker and build their watch so this necessitated a design that would work in multiple finishes and with different strap colors.
During the design process, we quickly realized how important it is to get physical prototypes made.  Sketches and computer models are a great way to refine and explore the design, but with an object like a watch, which is going to be experienced physically in such an intimate way, there is really no substitute for holding a scale prototype and experiencing it in the physical world. I feel so lucky I live in an era when 3D printers have simplified this process. We worked with Sculpteo for our 3D prototyping. They were a great partner.
When it came time for production, the biggest things we learned were that you have to be flexible and you have to get the factory involved as early as possible. I was very careful to design an object that could actually be manufactured, but there were still tweaks that we had to make along the way. Getting the brushed finish particularly required some changes to the design to allow the tooling to reach all of the surfaces.
Having worked on the manufacturing side of the equation before really allowed us to work together and come up with an end product that I'm really happy with.
What did you test for and fine tune the most while designing the watch?
The lugs and the straps were the most difficult part to design and source respectively. Once we had the case design figured out, I went over probably a hundred different designs for the lugs. I even considered a lugless look similar to Uniform Wares M-Line, but I eventually rejected that option because it made the case too thick. I really wanted something that made sense with the faceted case. Thankfully, the production team didn't bat an eye when the end result was six faces and couple of rounded edges.
The leather was a really hard piece to source. We had really high expectations for the quality, grain color, and color retention. We found a lot of leathers which we thought would work, but after wear testing them for a few weeks we'd discover cracking or discoloration that was deemed unacceptable. Finally, we were able to find a tanning partner who was able to give us the colors and the quality that we were looking for.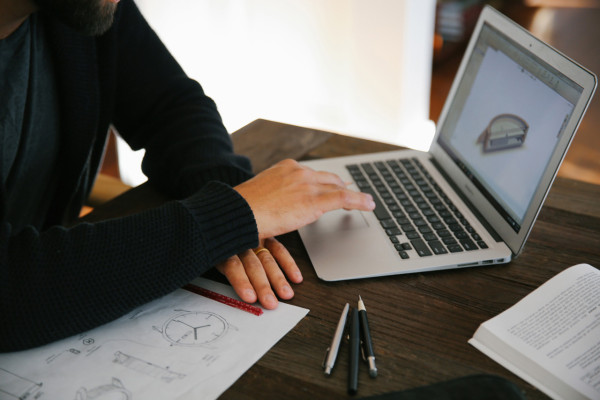 Was there a specific moment in the design process which felt like a breakthrough?
The biggest breakthrough in the design was the faceted case. The idea first came about when our first 3D printed samples had flat faceted sides instead of round edges. I went back to the computer model to see what was happening and I realized that the program I was using was splitting the circle into 20 lines behind the scenes.
I was discussing it with the team and we kind of liked the idea that the facets told the story of the design being translated from an analog sketch into a digital model, and then back to an analog physical product. We decided the facets embodied the same spirit of tinkering that we were attempting to communicate through our watch design, so the detail became Tinker Watches characteristic feature.
Tinker Watches are available for pre-order today for $150, shipping this Spring 2016. A special thanks to both Eva and Ian Goicochea for their time.