Brooklyn-based Calico Wallpaper began haphazardly during the aftermath of Hurricane Sandy when Rachel Mosler and Nick Cope were stranded in their loft and out of work for a month. Instead of sitting around, Mosler got inspired to marbleize paper. Hundreds of prototype swatches later, they decided to expand them and turn them into wallpaper. Currently, they're offering two designs that each come in three color ways: Wabi and Lunaris.
The duo partnered with Dieu Donné to create a 100% cotton fiber paper that allowed them to make the largest marbled papers in existence. These large scale originals got into Cope's hands where he then adapted the patterns to become wallpaper (he can adapt them to fit any wall size).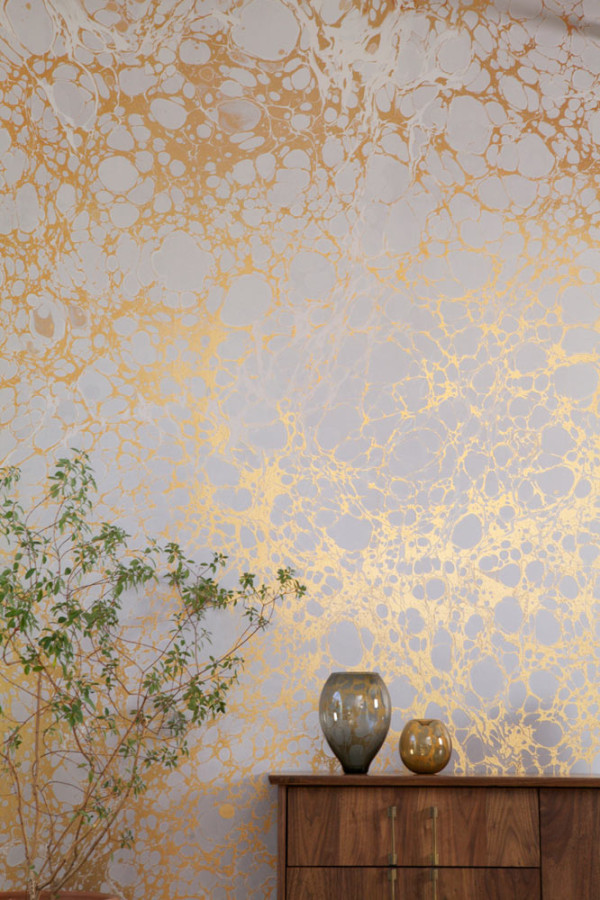 Wabi's (above and below) origins begin in ancient east landscapes, evoking the feeling of water flowing over pebbles.
From Mosler:
We wanted paint and light to dance without breaks. I'm an artist and Nick is a designer. He loved the work that I was doing, and I loved his idea to apply it to interiors.
Lunaris, full of tranquility, was inspired by NASA photographs of moonscapes and uninhabited space.