It's hard to believe, but we're already rounding the corner to the holiday season. (Cue deep sigh and musings about time flying.) In my house, this translates to a lot of kitchen time. From mulled wine to gravy and stuffing to Christmas baking, the kitchen become even more of a hive of activity than usual. All this food prep tends to lead to thoughts of kitchen remodels and my Pinterest Kitchen Dreams board sees a flurry of activity. So, when I watched Miele's videos on the making of a chef kitchen, my heart did a little happy dance. (I also have a serious love for any television renovation reality.) This series explores what it might look like to design a kitchen inspired by some of Britain's best chefs. If you know your way around a kitchen, you know that the functionality is just as important as the style of the handles. The details that the chefs give on how they made appliance choices are also pretty fun. Here's a little peek into the Miele-method of kitchen design.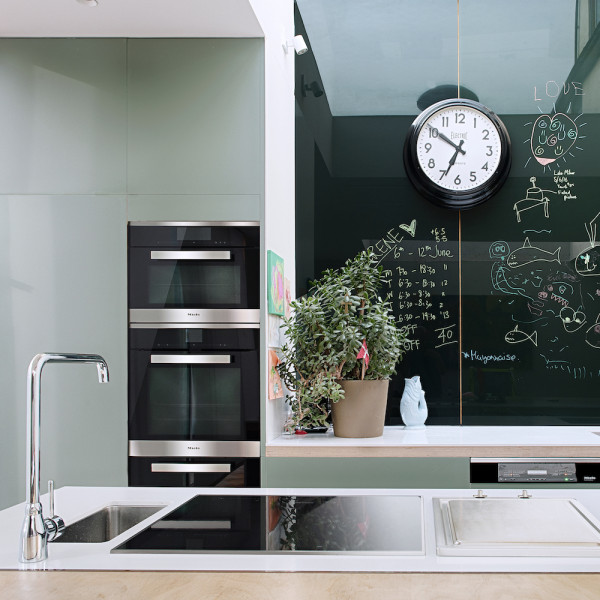 The video above showcases the kitchen of chef and owner of acclaimed restaurant The Modern Pantry, Anna Hansen. Anna wanted a kitchen design that matched the versatility of her fusion-style cooking. Ingredients like tamarind, miso, fresh turmeric, umeboshi plums, yuzu and licorice are frequently part of her repertoire (Spoiler alert: Anna's appliance must haves include the Miele induction hob, steam combination oven, and dishwasher).
Sven-Hanson Britt is both Miele's Executive Chef and owner of Hardley Hill Farm. When designing his home kitchen, Sven needed a design that could maximize his limited kitchen space so it was critical that his appliances were multifunctional. Sven all about seasonal, fresh and British and is a huge big proponent of cooking with steam (Spoiler alert: Sven's must haves were the Miele steam combination oven and warming drawer).
Monica Galetti, judge of the BBC cooking competition MasterChef Professionals, is slated to open her first restaurant, Mere, in central London in January. In the meantime, she is churning out pretty awesome Saturday evening family dinners in her home kitchen (often a rib of beef or fish and lots of vegetables). Monica's appliance choice was motivated to use the kitchen island as a real work station and wanting to be able to clean and cook easily. She also uses her home kitchen for recipe testing as well as those big family dinners, so she included three ovens in her kitchen design (Spoiler alert: Monica's kitchen must haves are a Miele steam combination oven and an induction hob).
The final inspiration dream kitchen drew from all three chefs kitchens to create a fully functional (and seriously beautiful! That green!) space. Like Anna and Monica, Incorporated a Miele induction hob—motivated both by the functionality and the safety. (No burning of little fingers!) (The video of the final kitchen is a must-watch if only to see how the dishwasher opens with just a knock on the door).
Feeling inspired? If you're in the UK, you should definitely check out Miele's Taste for Design classes where you can see the Miele products in action. Even though my kitchen renovation is of the pipe dream variety, I wish there would be a US version of the Taste for Design – Just Imagine course, which is designed for those planning a kitchen but unsure of what appliances to include. Happy chef-ing!