Chris Pardo, of Chris Pardo Design: Elemental Architecture, designed this modern island retreat as a small vacation cabin on the island of Marrowstone in Washington state. Built by Method Homes as a prefab modular unit, this one-bedroom, one-bathroom model, called Element 1, sits on waterfront property and blends with the surrounding natural landscape.
The design houses 825 square feet, which is partially covered in floor-to-ceiling windows that open up onto a deck. The windows frame the wooded and coastal views of the Puget Sound.
On the other side, the corner with the bedroom opens up as well, filling the space with light.
The exterior is clad in corten rusted steel and cedar siding, both of which will stand up to the elements.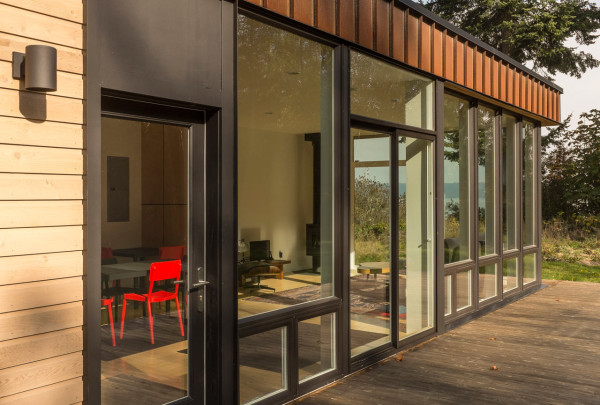 The window walls frame the breathtaking water views and make the separation between the indoors and outdoors dissolve.
The energy efficient unit features FSC bamboo flooring and custom maple cabinetry.