This modest beach bungalow circa 1913 was relocated to Santa Monica only a couple of blocks from the beach, to the place it has called home since 1920. All these decades later, it was time for a major renovation, so Bay Street got just that with help from Bittoni Architects.
The home's street presence remains the same, keeping the exterior fairly true to form, while the interior received a complete renovation. Through the renovation, the home's interior and exterior connection flow letting the residents enjoy California indoor/outdoor living year round.
A two-story addition was designed and built in the rear, which provided the home a new top-floor master suite and deck with a terraced indoor dining and living area that's open to the outdoors, below.
The interior design was covered by Delphine Lafont for Modern Cause, which included simple statement pieces creating a timeless interior space. Love the Eames sofa on the left.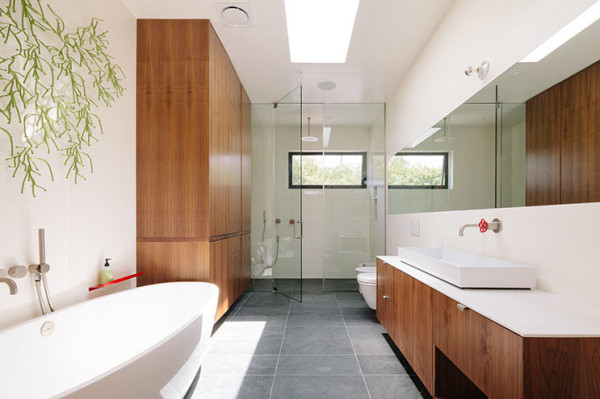 One bathroom is streamlined and tranquil with white fixtures and warm woods.
While the other goes bold with a bright yellow on the walls.
Photos by Taiyo Watanabe.

Design From Around The Web