It's a rare instance when three of my passions – design, technology, and mycology – converge into a singular focal point. ZISION Studio's Mushroom lamp envelopes all three fields, a portable fungus-shaped LED lamp that takes a page out of nature – where some mushrooms illuminate in the night using bioluminescence – doubling up as a portable iPhone stand and charger.
The lamp's design allows for two orientations: flipped up glass side up the light takes on its namesake, resembling a small button mushroom; flipped with the base side pointing up reveals a slot for the iPhone, becoming a charger. Constructed from North American maple wood and glass, the Mushroom lamp was designed to be used around the home, with a built-in 5000mAh lithium polymer battery capable of illuminating a space for up to 8 hours or charge an iPhone 6 twice before requiring a recharge itself (both lighting and charging can be used at the same time).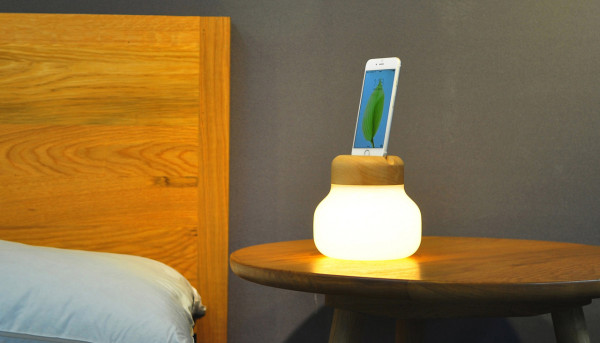 Though the Mushroom lamp's 140mm x 140mm x 132mm dimensions are nowhere as miniscule as the recent mini 3D printed lamps we've recently shared, this warm LED is superior as a bedside lamp or used as mood lighting. Still, think ambience, rather than a primary light source. But imagine these lights in multiples…the mind cannot but imagine a modernist's menagerie of the mycological!

Design From Around The Web