The Royal Danish Academy of Fine Arts, School of Design, had one of the stand-out student stands of the Stockholm Furniture Fair. Wittily entitled New Bacon, it was styled by a team of six students (Mads Sætter-lassen, Eva Fly, Sanna Movafagh, Emil Krøyer, Mathias Wiik and Celina Hirsch Rolmar) to look like a butcher's shop with products and information tags hanging from butcher's hooks in a white-tiled environment.
Twelve students had their work featured, including the Archilleus – Changing Habits Chair, by Harald Hermanrud, constructed from one single piece of rope:
On a similar theme, Bending Days by Nanna Day Larsen, is made from hand-bent steel that is then welded and powder coated, to create a piece of furniture inspired by textiles and with an expression of lightness, that is nonetheless strong enough to hold the weight of the sitter.
And below, clockwise from top left, are: A Bench by Alvilde Holm, The Nordic Nomade Chair by Bjarke Frederiksen, Bu by Brian Ulbrichsen and Room for Squares by Rasmus Warberg.
One of my favorite pieces was this very Nordic oak and ox skin chair called Raft by Sofie Oesterby.
And I absolutely loved Wool on Fence by Emilie Dissing Wiehe, which looked like it might just hug you. Emilie is a textiles student and so wanted to create a cloud-like interactive "textile landscape" and a range of tactile experiences.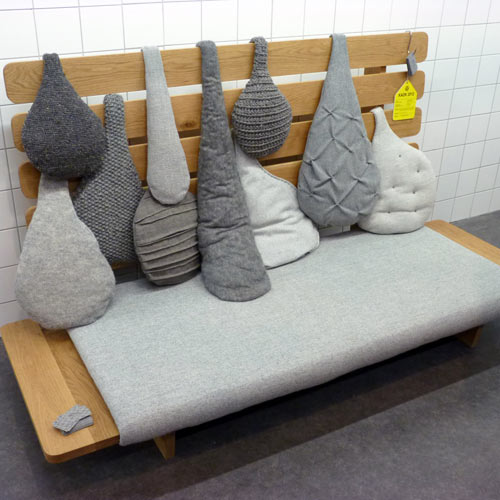 Next up is Big Basket by Ola Gillgren, made from felt woven into a steel frame, inspired by basket-weaving techniques. Ola wanted to make the construction of the chair visible and very much part of the aesthetic.
Mathias Hergaard Wiik was inspired by "the formless, organic and uncontrolled" and a series of abstract experiments in creating his Cover Chair. He describes it has having "wild, random-angled legs" and a "calm surface." (above, top right)
Johanna Paulsson's Pouf (above, bottom left) is an upholstered bench "creating a volume of hidden and captured air." Frederik Alexander Werner's Carpet Lounge Chair (above, bottom right), meanwhile "is the product of a childlike approach to furniture and the simple idea of just ripping up your carpet and molding it into shape."
I loved the styling of this stand almost as much as the products. Clearly, a lot of thought and effort had gone into it, and I wish these talented and enterprising students every success – they deserve it.
Our trip to Stockholm for the Stockholm Furniture Fair 2012 was supported in part by Airbnb.com.