If you're outside of North Carolina, you might not realize the depth of the state's furniture and textile industries, which date back over 100 years. Home to High Point Market, the largest furnishings industry trade show in the world, and Furnitureland South, the largest furniture store in the world, it's easy to assume the industries lean towards traditional but there's also a continually burgeoning force of modern design that's finally getting noticed, thanks to the likes of Bernhardt Design, HBF, Raleigh Denim, and more.
Another one making waves is Ana Maria Muñoz, owner of Port of Raleigh, an independent brick-and-mortar and online shop (featured in our Design Store(y) column here) curating design-driven products from around the world. The community of local designers she's met since the shop began inspired her to create New Carolina, an upcoming shoppable event showcasing six Triangle design studios, from small-batch furniture makers to process-driven textile designers, who bring a fresh approach to North Carolina's design legacy.
Through Port of Raleigh I've had the opportunity to connect with local designers who are creating fresh, beautiful, and exciting things. All right here in the Triangle. And because these designers and their work are so much bigger than our four walls at the store, I wanted to create a fun new offsite experience for our community where everyone is invited to discover contemporary designs by local emerging talent.
-Port of Raleigh's owner, Ana Maria Muñoz
New Carolina is being sponsored by North Carolina-based furniture manufacturer Bernhardt Design, with President and Creative Director Jerry Helling saying, "Bernhardt Design has sponsored a number of different programs and young designers. We are pleased to have the opportunity to support young designers from North Carolina."
Now, meet the design studios taking part: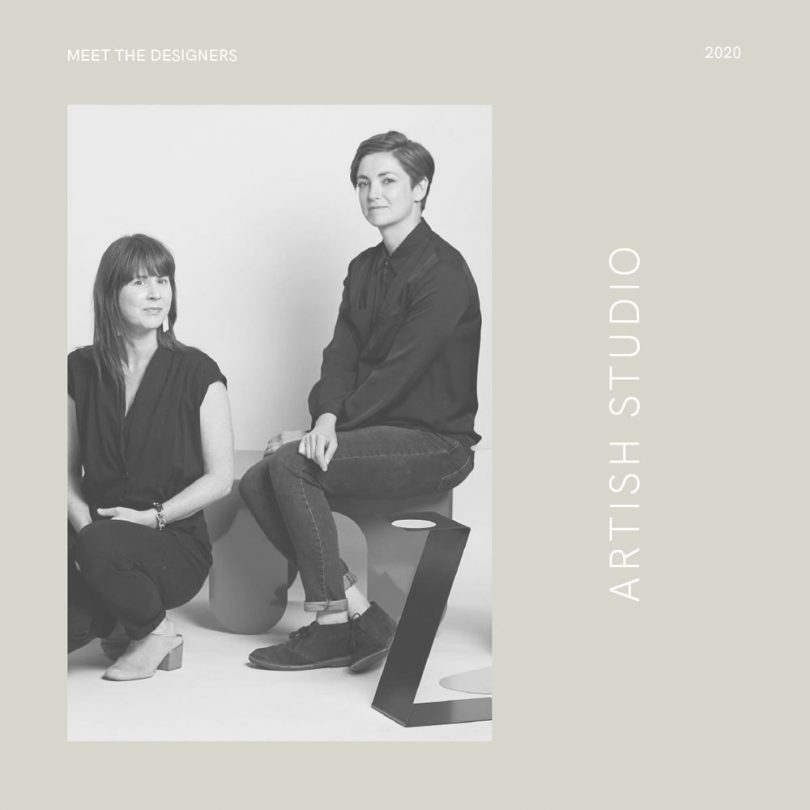 Artish is a Raleigh-based design studio made up of Courtney Evans and Abby Ross, who bring expertise in architecture, industrial engineering, graphic design, interior design, branding, digital visualization, and fabrication, to the table. They focus on flexible, interactive designs that are both affordable and accessible to all, and most importantly, fun to play with. (Previously featured on Design Milk here)
Durham-based Elijah Leed designs and builds furniture and objects using old-school techniques and modern methods of joinery and construction. With an impeccable attention to detail, Leed handcrafts pieces that are timeless, functional, and have universal appeal – a design trifecta often hard to find these days. (Previously featured on Design Milk here)
The designers/makers behind Raleigh-based Flitch Furniture came together with a goal of designing products to help make life more enjoyable and efficient. Their easy-to-assemble furniture is lightweight and durable making it perfect for nomadic types, people who like to rearrange their furniture often, and anyone who appreciates functionality.
Based in Raleigh, artist and designer Erica Gimson spent 20+ years honing her craft while working for major companies like Macy's and Bloomingdale's directing their home decor and bedding collections. Now she's producing her own small-batch collections of textiles borne from her hand-drawn sketches.
Durham-based designer and maker Mike Newins creates work that instantly piques curiosity. While keeping materials to a minimum, Newins explores playful silhouettes and bold color, particularly Yves Klein blue, to make pieces that look like they fall somewhere between modern sculptures and cartoons.
Combining their love of art and design, partners Brooke Heuts and Braedyn Mallard launched Grey Goods Studio in 2017 in hopes of making the world a better and more beautiful place. Their hand-designed, digitally printed textiles explore modern patterns that evoke a graphic, painterly feel.
New Carolina will take place at Junction West in Downtown Raleigh February 8-9th from 10am-5pm. It's a free event and open to the public. For more information, check out meetnewcarolina.com.