Described as "the world's most important consumer goods trade fair," you might expect Ambiente Frankfurt to be big, commercial, and devoid of interesting new talent. It's vast, it's definitely commercial, but it's also buzzing with emerging designers – and nowhere is this more true than in the Ambiente Talent sections, featuring 33 young designers from 15 countries. "Exhibiting in the limelight of the fair is an important step for young designers wanting to transform their creativity into a livelihood," said Ambiente Vice President Nicolette Naumann. "The Talents area offered by Messe Frankfurt provides the foundation for making vital contact with potential customers and manufacturers and gives young designers the chance to obtain professional and immediate feedback on their ideas."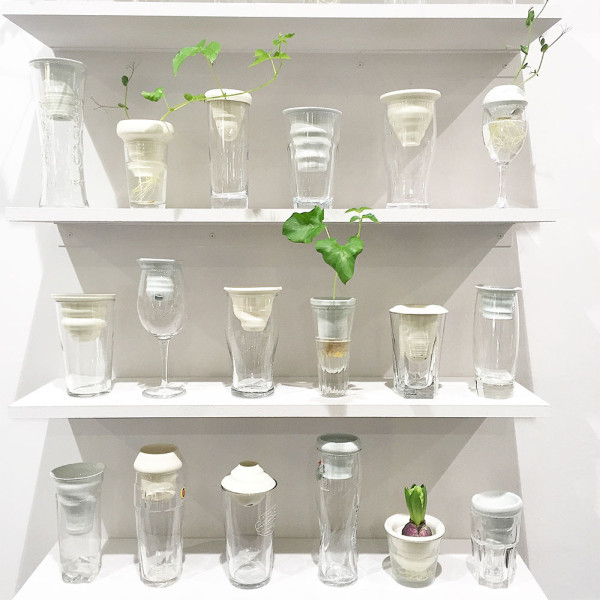 It was great to see Alicja Patanowka's Plantation collection, having featured her work on Design Milk before. She trawls the streets of London in the early hours of the morning, collecting discarded glassware and then hand throws ceramic forms to turn each glass into a unique plant pot that enables the user to watch their plant grow, both through its leaves and its roots.
Robin Hohn makes the vessels in his Diversity of Mass Production collection in two-part molds, so each one is unique. "The charm of traditional craftsmanship is combined with the advantages of modern manufacturing processes making it possible to generate and to discover future production methods," he said.
Martin Hirth's kit for collecting natural spring water, comprising a backpack, a ladle, two baskets, two water bottles, and four drinking glasses, is proposed as an alternative to using plastic bottles. "It is an aesthetical utopia," he said. "The process of fetching water from the untouched nature, calls attention to many difficult problems about the commercialization of water."
Origami tableware by Academy of Fine Arts Hamburg graduates Stine Paeper and Angelina Erhorn, aka Moij Design, was inspired by Japanese paper folding. The designers make origami pieces in paper, then cover them in plaster to create a mold for the porcelain. Every bowl is different, featuring the individual creases of its mold.
An investigation into color and form by German designer, Alexander Spenst, resulted in 8groschenKNABEN, a collection of five tea caddy prototypes. I love their bold colors and characterful spinning top design.
Miito by Chudy and Grase has just been nominated for the Design Museum's 2015 Design of the Year. It is a revolutionary new take on the electric kettle that enables you to heat only the amount of liquid required, by inserting its probe into whatever needs heating – from coffee to soup. It has already won the Design Academy Eindhoven Keep an Eye Grant and Rene Smeets Award and been shortlisted for the James Dyson Award. Definitely one to watch.
Only in her second year of a design degree, Jessica Herrera was showing her first fully working prototype – Lilla. Responding to shrinking multifunctional living spaces, the table is designed for both dining and working, with bespoke storage space inside for whichever you're not currently using it for.
Form follows function in Ridge Kitchen by Visibility, a New York-based design studio founded in 2012 by Joseph Guerra and Sina Sohrab. The collection of porcelain tools for the kitchen are decorated with a functional pattern – the grooves on the pestle and mortar support the twisting motion required for grinding, the grater is designed for ginger and garlic, modeled on traditional Japanese porcelain graters, and the indentations of the pitcher eliminate the need for a handle.
ZZ Design Studio's side table is modeled on an ostrich – the 'head and neck' are a desk lamp only attached by magnets, so it can be positioned anywhere on the bird's 'body'. The tabletop is made of iron, while the legs and 'neck' are American ash. Designed to be put next to a sofa or chair, and available in black, orange, and blue, designer Mario Tsai hopes it will put the fun back into reading.
When switched on, an LED inside the head of the aluminium pole of Light by Tokyo-based studio Yoy projects the shape of a lightshade onto the wall behind the light. It is available as a floor lamp and a table lamp.
Growing up as a diabetic, Carlos Alves Ludovico spent many a birthday feeling he was missing out on typical party food like cake. His Fruit On Top cake emphasizes the importance of healthy eating, elevating fruit to the status of the 'cherry on top.' The height of each slice correlates to the carbohydrate value of each type of fruit, to help those keeping an eye on their blood glucose levels.
And last but not least, I loved everything on Berlin-based designer Weng Xinyu's stand, but his Balance Lamp especially resonated. Concerned about how distracted we're becoming by social media, Candy Crush, and the other temptations associated with our smartphones, he designed the Balance Lamp. It only switches on when the counterweight of a smartphone lifts the shade off the surface of the desk, illuminating the user's working space and allowing them to fully concentrate on the task at hand.