Notabag's New Launch With We Are Out of Office Blooms With Spring Spirit
Notabag's New Launch With We Are Out of Office Blooms With Spring Spirit
1/6 Photos
2/6 Photos
3/6 Photos
4/6 Photos
5/6 Photos
6/6 Photos
If you've been with us a while you know that we're big fans of Notabag. The original tote bag and backpack hybrid, Notabag's revolutionary convertible design conveniently switches from tote bag to backpack with just a simple tug on the straps, virtually eliminating the need for disposable bags. Not only are the eco-friendly totes incredibly practical, but they look the part too – they're made using durable, high-quality materials and come in an endless range of modern shades and fashionable prints.
For their latest launch, Notabag joined forces with Netherlands-based artists Winneke de Groot and Felix van Dam of We Are Out Of Office (WAOOO) to create new special edition patterns for their award-winning bags – now available on the Design Milk Shop. We got the chance to catch up with the duo to learn more about the collaboration, and get a tour of their studio!
How would you describe your design style?
Our work is bold and colorful and consists of simple forms.
Can you share the story behind your studio name?
The first project we did together was called "We are out of office." We wanted to live in New York for a while but as we're not allowed to work there, we had to come up with another way of making a living. We screen printed a lot those days and we figured we could design and print posters for delis, launderettes, coffeeshops, etc. in exchange for food, goods, or whatever it was this particular place was carrying. As traveling was our main source of inspiration we decided to stick with the name.
What drew you both to graphic design?
I don't really know what drew us to graphic design, but after art school we both didn't want to become "graphic designers." I think our style is still really graphic, and a lot of our inspiration comes from (graphic) design, but we like to think we do something different. It's hard to name what it is we're doing, it's kind of in-between a lot of things. That's also what keeps things interesting for us.
Can you tell us about your creative process? How has your relationship as collaborators informed that?
Our style really developed by working together. Before this we both did pretty different things. We used to screen print a lot, and to make this easier we tried to make our designs as simple as possible. When making new works we often switch so we both work on the same things, this created a whole new way of working for us. We always start analog: cutting paper, sketching, painting. Most of the time we digitalize all this, and we start shuffling around on the computer, changing compositions, looking for the right color combinations. We make these enormous files with all these different options, and we start making selections until we feel we are "there."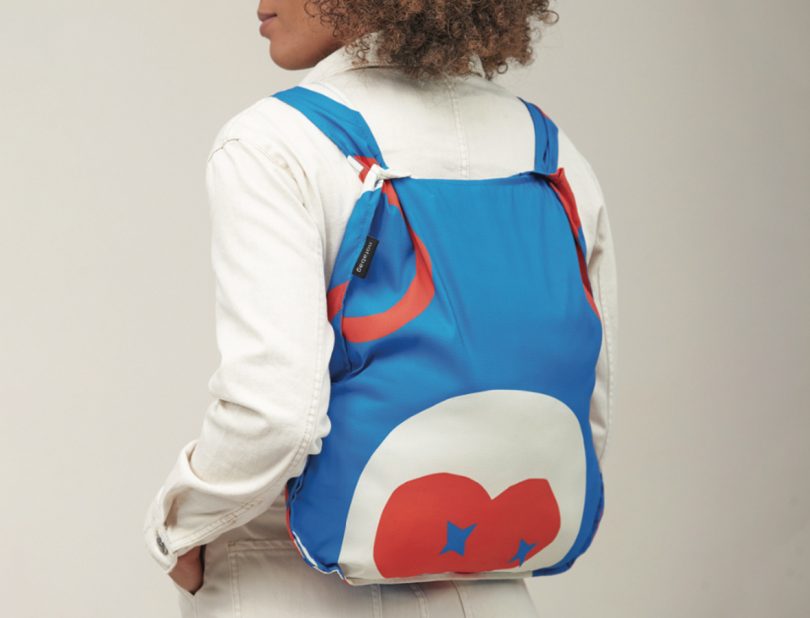 Tell us about the inspiration behind your work with Notabag.
As it's a tote bag with the advantage of also being a backpack, we felt it should be a spring/summer bag as that's the time of year we would use it most. It also launches in spring so we felt it should have a positive and sunny vibe. As we work and live in an old cherry orchard, we always sit outside as soon as the sun comes through and the temperatures are rising. We drink coffees in the sun, have lunches with our neighbors (who are all artists) and enjoy the weather. These first days of spring are the inspiration behind the two designs we made.
Your favorite ways to use your Notabags?
It's nice to always take it with you. For me, shopping for groceries is the best way to use it, as a tote when I'm walking, and as a backpack while riding a bike.
Shopping Notabag's latest drop with We Are Out Of Office? Share your haul and tag us @designmilk to be reposted on our Instagram!